Home > Store > Programming > C/C++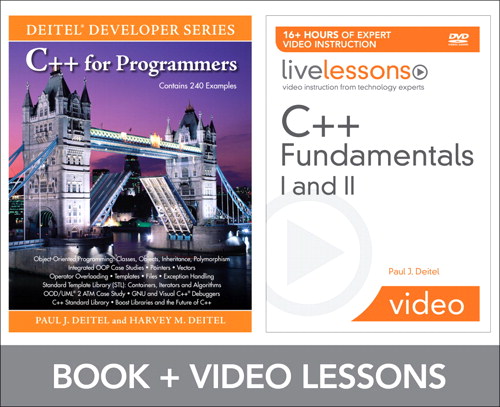 Share
|



Register your product to gain access to bonus material or receive a coupon.
C++ Fundamentals I and II LiveLesson Bundle
Book
Your Price: $79.99
List Price: $99.99
Usually ships in 24 hours.
Copyright 2011
Dimensions: 7-1/2" x 9-1/8"
Pages: 1056
Edition: 1st
Book
ISBN-10: 0-13-701823-1
ISBN-13: 978-0-13-701823-9
Video training on demand: a complete, easy video course for every professional developer who wants to master C++

Start-to-finish personal training on C++ object-oriented programming from world-class trainers Deitel and Associates: just watch and learn!
Step-by-step video walkthroughs take developers from basic syntax through advanced techniques, using the Deitels' proven "Live Code" approach
Great classroom training at a fraction of the cost... for pros who don't have time to read a book
The bundle consists of the book C++ For Programmers, 0137001304, and C++ Fundamentals I and II video training on two DVDs
Table of Contents
C++ Fundamentals: I
1. Introduction to C++ Programming
2. Introduction to Classes and Objects
3. Control Statements: Part1
4. Control Statements: Part2
5. Functions
6. Arrays and Vectors
7. Pointers and Pointer-Based Strings
8. Classes: A Deeper Look, Part1
9. Classes: A Deeper Look, Part 2
C++ Fundamentals: II
1. Operator Overloading; String and Array Objects
2. Object-Oriented Programming: Inheritance
3. Object-Oriented Programming: Polymorphism
4. Templates
5. Exception Handling
6. Standard Template Library (STL)

FREE

ONE MONTH ACCESS!
WITH PURCHASE
---
Get unlimited 30-day access to thousands of Books & Training Videos about technology, professional development and digital media If you continue your subscription after your 30-day trial, you can receive 30% off a monthly subscription to the Safari Library for up to 12 months.
Other Things You Might Like
Book $23.99
eBook (Watermarked) $47.99