Home > Store > Programming > Java
Building Ajaxified Web Applications with JSF 2.0 LiveLessons (Video Training), Downloadable Version
Copyright 2011
Edition: 1st
Downloadable Video
ISBN-10: 0-321-75298-8
ISBN-13: 978-0-321-75298-7
Register your product to gain access to bonus material or receive a coupon.
10+ Hours of Video Instruction
Java is the world's most widely used programming language. It is the dominant language used for Web-based applications, and it is the technology that runs google.com, ebay.com, travelocity.com, hotels.com, walmart.com, ikea.com, and thousands of other sites. Servlets and JSP have long been the standards for building Web apps in Java, but in many applications, they are now considered too low-level for modern requirements that include complex validation, Ajax, and reusable components. So, a number of higher-level frameworks have sprung up, and the only one that is part of the official Java EE specification is JSF (JavaServer Faces). Although JSF 1.x was very widely used, it was considered a bit clunky and tedious to develop with. However, the new JSF 2.0 release is dramatically better: simpler, more powerful, and with integrated Ajax support. JSF 2.0 is now part of the Java EE 6 specification, but it can also be used separately in ordinary Java-enabled servers like Tomcat, or in servers like JBoss 5, WebSphere 7, or WebLogic 10 that support only earlier Java EE versions.
Building Ajaxified Web Applications with JSF 2.0 – LiveLessons Video Training provides a complete introduction to the fundamentals of JSF programming as well as the new JSF-2.0-specific features. It covers everything from installation and configuration, to programming basics, to advanced topics like page templating with Facelets and using the JSF looping tags.
¿
In 15 clear and well-motivated lessons, you'll learn exactly what you need to know to take advantage of the dramatic improvements in JSF 2.0, including integrated Ajax support and composite components.¿ Other key topics covered include:
¿
•¿¿¿¿¿¿¿ Managed beans
•¿¿¿¿¿¿¿ Explicit page navigation control
•¿¿¿¿¿¿¿ Properties files, messages, and I18N
•¿¿¿¿¿¿¿ Responding to GUI events
•¿¿¿¿¿¿¿ Validating user data
•¿¿¿¿¿¿¿ Handling variable-length results data with ui:repeat
•¿¿¿¿¿¿¿ Creating tables out of collections with h:dataTable
•¿¿¿¿¿¿¿ Using view parameters, handling GET requests, and bookmarking pages
¿
If you are looking for a better way to master rapidly changing programming technologies like JSF and Ajax, this LiveLessons video offers self-paced, personal video instruction from one of the world's leading experts.
•¿¿¿¿¿¿ Like all LiveLessons, this course is carefully organized into bite-sized, self-contained sessions—you'll learn key skills in as little as twenty minutes.
•¿¿¿¿¿¿ The entire course was personally¿developed and has been taught around the world by leading Java developer, speaker, and author¿Marty Hall.
•¿¿¿¿¿¿ Each section includes motivation for the technology, careful coverage of the basics, best practices, and lots of real working examples.
•¿¿¿¿¿¿ Complete source code, exercises, and exercise solutions can be downloaded from the course Web site.
¿
Marty Hall¿is president of¿coreservlets.com, a training and consulting company focusing on server-side Java technology and Rich Internet Apps with Ajax. Marty has an extensive background in teaching and training, having given training courses on J2EE, JSF 2.0, GWT, and Ajax topics in eight countries and dozens of US venues. He is also is the author of six popular Java EE books, including Core Servlets and JavaServer Pages.
¿
For information on public courses on JSF 2.0, Ajax, jQuery, GWT, and other Java technologies, visit the Java EE and Ajax training course page. For a quote on customized courses taught onsite at your organization, contact Marty at hall@coreservlets.com.
Table of Contents
Lesson 1: Overview
Lesson 2: Getting Started
Lesson 3: Basics
Lesson 4: ManagedBeans
Lesson 5: Navigation
Lesson 6: Expression Language
Lesson 7: Properties
Lesson 9: AJAX
Lesson 10: Validation
Lesson 11: Looping
Lesson 12: Data Tables
Lesson 13: Templating
Lesson 14: Composite Components
Lesson 15: View Params
LiveLessons Video Training series publishes hundreds of hands-on, expert-led video tutorials covering a wide selection of technology topics designed to teach you the skills you need to succeed. This professional and personal technology video series features world-leading author instructors published by your trusted technology brands: Addison-Wesley, Cisco Press, IBM Press, Pearson IT Certification, Prentice Hall, Sams, and Que. Topics include: IT Certification, Programming, Web Development, Mobile Development, Home & Office Technologies, Business & Management, and more. View All LiveLessons
Downloadable Video
Your Price: $119.99
List Price: $149.99

Accessible from your Account page after purchase. Requires the free QuickTime Player software.

Videos can be viewed on: Windows 8, Windows XP, Vista, 7, and all versions of Macintosh OS X including the iPad, and other platforms that support the industry standard h.264 video codec.
FREE

ONE MONTH ACCESS!
WITH PURCHASE
---
Get unlimited 30-day access to thousands of Books & Training Videos about technology, professional development and digital media If you continue your subscription after your 30-day trial, you can receive 30% off a monthly subscription to the Safari Library for up to 12 months.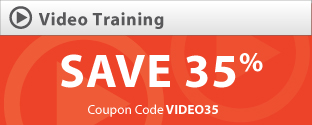 Other Things You Might Like

Book $31.99