Home > Store > Business & Management > Management & Strategy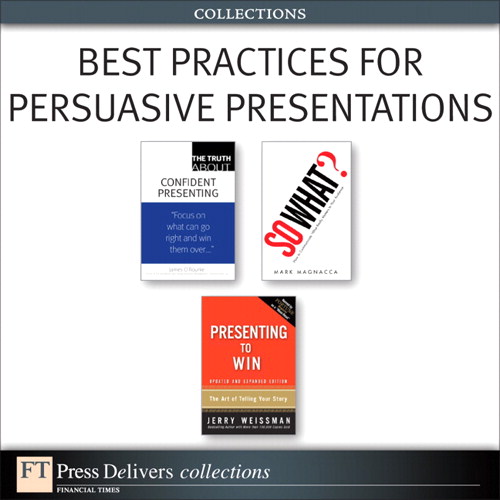 Share
|



Register your product to gain access to bonus material or receive a coupon.
Best Practices for Persuasive Presentations (Collection)
eBook (Watermarked)
Your Price: $50.39
List Price: $62.99

This PDF will be accessible from your Account page after purchase and requires the free Adobe® Reader® software to read it.

The eBook requires no passwords or activation to read. We customize your eBook by discretely watermarking it with your name, making it uniquely yours.
Copyright 2011
Dimensions: 6" x 9"
Pages: 672
Edition: 1st
eBook (Watermarked)
ISBN-10: 0-13-269638-X
ISBN-13: 978-0-13-269638-8
3 expert guides to creating and delivering the best presentations of your life!
Learn how to make winning presentations fearlessly and painlessly… prepare quickly, efficiently, and well… manage anxiety and handle hostile audiences… answer the crucial "So What?" question brilliantly, every time… capture even the toughest, most high-level audience in 90 seconds... tell compelling stories that move your listeners to action!
From world-renowned leaders and experts, including James O'Rourke, Mark Magnacca, and Jerry Weissman
Table of Contents
THE TRUTH ABOUT CONFIDENT PRESENTING
Introduction
Part I Some Initial Truths
TRUTH 1 Public speaking is not easy, but it's certainly doable
TRUTH 2 The key to success is preparation
TRUTH 3 Rehearsal is essential
TRUTH 4 Emulating good speakers makes you better
TRUTH 5 Establish goals for your presentation
TRUTH 6 A presentation is a learning occasion
Part II The Truth About Getting Ready to Speak
TRUTH 7 Talk is the work
TRUTH 8 Know what your audience is looking for
TRUTH 9 There is a difference between speaking and writing
TRUTH 10 Preparing a presentation is a relatively simple process
TRUTH 11 Begin by analyzing your audience
TRUTH 12 Know your audience
Part III The Truth About What Makes People Listen
TRUTH 13 Understand what makes people listen
TRUTH 14 Your speaking style makes a difference
TRUTH 15 Anticipate the questions your audience brings to your presentation
TRUTH 16 Listening matters
TRUTH 17 Being an active listener brings real benefits
TRUTH 18 You can overcome the barriers to successful communication
Part IV The Truth About Developing Support for Your Presentation
TRUTH 19 Develop support for your presentation
TRUTH 20 Understand the power of your content
TRUTH 21 The kinds and quality of evidence matter to your audience
TRUTH 22 Structure can help carry an inexperienced speaker
TRUTH 23 Find support for your presentation
TRUTH 24 Use the Internet to support your presentation
Part V The Truth About Getting Up to Speak
TRUTH 25 Select a delivery approach
TRUTH 26 Your introduction forms their first impression
TRUTH 27 Begin with a purpose in mind
TRUTH 28 Keep your audience interested
TRUTH 29 Conclusions are as important as introductions
TRUTH 30 Have confidence in your preparation
TRUTH 31 Repeat the process as often as possible
Part VI The Truth About Managing Anxiety
TRUTH 32 All speakers get nervous
TRUTH 33 Recognize anxiety before it begins
TRUTH 34 Deal with nervous behaviors
TRUTH 35 Keep your nervousness to yourself
Part VII The Truth About Nonverbal Communication
TRUTH 36 Most information is transferred nonverbally
TRUTH 37 The nonverbal process can work for you
TRUTH 38 Nonverbal communication has specific functions
TRUTH 39 Nonverbal communication is governed by key principles
TRUTH 40 Nonverbal communication has an effect on your audience
Part VIII The Truth About Visual Aids
TRUTH 41 Visual aids can help your audience understand your message
TRUTH 42 Understand visual images before you use them
TRUTH 43 Choose the right visual
TRUTH 44 Use PowerPoint effectively
TRUTH 45 Consider speaking without visuals
Part IX The Truth About Handling an Audience
TRUTH 46 Assess the mood of your audience
TRUTH 47 Answer the audience's questions
TRUTH 48 Handle hostility with confidence
Part X The Truth About What Makes a Presentation Work
TRUTH 49 Know as much as possible about the location
TRUTH 50 Use the microphone to your advantage
TRUTH 51 Know your limits
References
Acknowledgments
About the Author
So What? How to Communicate What Really Matters to Your Audience
About the Author
Foreword
Chapter 1 What You Need to Know in 850 Words
Chapter 2 Change Your Thinking, Change Your Life
Chapter 3 How I Learned to Think This Way–You Can, Too!
Chapter 4 Your World View–Making the Invisible Visible
Chapter 5 What's in It for Them?
Chapter 6 Who You Always Wanted to Be–Yourself
Chapter 7 Winging It Versus Orchestration
Chapter 8 Getting Your Audience Engaged
Chapter 9 Tie a String Around Your Finger
Chapter 10 Getting from Where You Are to Where You Want to Be
So What? A Final Word
Glossary
Acknowledgments
Index
Presenting to Win: The Art of Telling Your Story Updated and Expanded Edition
Foreword to the Updated and Expanded Edition
Preface: What's Past Is Prologue
Introduction: The Wizard of Aaahs
Chapter One: You and Your Audience
Chapter Two: The Power of the WIIFY
Chapter Three: Getting Creative: The Expansive Art of Brainstorming
Chapter Four: Finding Your Flow
Chapter Five: Capturing Your Audience Immediately
Chapter Six: Communicating Visually
Chapter Seven: Making the Text Talk
Chapter Eight: Making the Numbers Sing
Chapter Nine: Using Graphics to Help Your Story Flow
Chapter Ten: Bringing Your Story to Life
Chapter Eleven: Customizing Your Presentation
Chapter Twelve: Animating Your Graphics
Chapter Thirteen: The Virtual Presentation
Chapter Fourteen: Pitching in the Majors
Appendix A Tools of the Trade
Appendix B Presentation Checklists
Acknowledgments
About the Author
Index
FREE

ONE MONTH ACCESS!
WITH PURCHASE
---
Get unlimited 30-day access to thousands of Books & Training Videos about technology, professional development and digital media If you continue your subscription after your 30-day trial, you can receive 30% off a monthly subscription to the Safari Library for up to 12 months.
Other Things You Might Like


eBook (Watermarked) $31.99