Home > Store > Networking > Network Administration & Management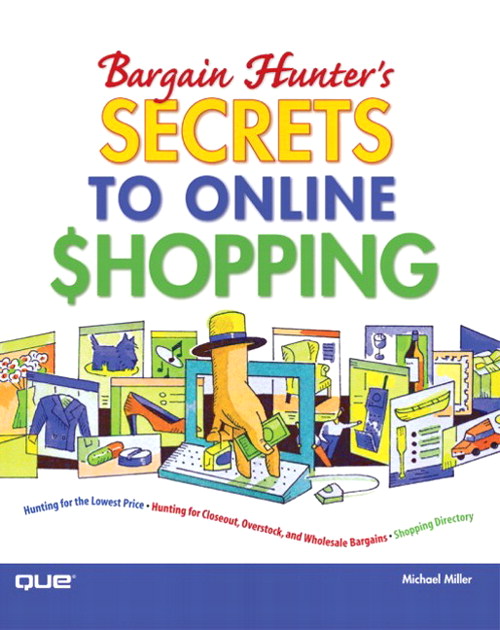 Share
|



Register your product to gain access to bonus material or receive a coupon.
Bargain Hunter's Secrets to Online Shopping, Adobe Reader
Published May 11, 2004 by Que.
eBook (Adobe DRM)
Your Price: $12.77
List Price: $15.96

ℹ This eBook requires the free Adobe® Digital Editions software.

Before downloading this DRM-encrypted PDF, be sure to:

Install the free Adobe Digital Editions software on your machine. Adobe Digital Editions only works on Macintosh and Windows, and requires the Adobe Flash Player. Please see the official system requirements.
Authorize your copy of Adobe Digital Editions using your Adobe ID (select AdobeID as the eBook vendor). If you don't already have an Adobe ID, you can create one here.
Copyright 2004
Edition: 1st
eBook (Adobe DRM)
ISBN-10: 0-7686-6314-8
ISBN-13: 978-0-7686-6314-3
Shopping. For some, it is a veritable sport. For others, it is a dreaded experience which they try to avoid at all costs. No matter which group you fit in to, chances are when you do shop you're looking for a bargain. Bargain Hunter's Secrets to Online Shopping is your one-stop-shop for finding the best bargains on the Internet in over 35 shopping categories. Over 1000 of the best Web sites for online bargain shopping are listed in this comprehensive, how-to guide. Nervous about making purchases online? You'll also learn how to identify reputable merchants, how to shop safely and the best ways to pay for an online purchase. Let your fingers do the walking through this guide and the world's largest shopping mall!
Table of Contents


Introduction.

How This Book Is Organized. Conventions Used in This Book. Let Me Know What You Think.
I. ONLINE SHOPPING SECRETS.
1. Online Shopping 101.
How Online Retailers Work. Understanding the Online Shopping Process. Online Shopping Step-by-Step: A Visit to a Typical Online Retailer. Paying for Your Purchase. What to Expect after the Sale. What's Next: Is It Safe?
2. Shopping Safely-And Securely.
Why Online Shopping Is (Generally) Safe. Typical Online Shopping Problems-And How to Deal with Them. Protecting Yourself from Online Fraud. Twenty Tips for Making Online Shopping Even Safer. What's Next: Protecting Yourself with Product Research.
3. Researching Your Purchases before You Buy.
Where to Find Product Information. Reviewing Products Online. Reviewing Online Retailers. What's Next: From Research to Bargain Hunting.
4. Becoming a Savvy Online Shopper.
Step 1: Find the Lowest Price. Step 2: Take Additional Savings. Step 3: Reduce Your Total Cost. What's Next: How to Find the Lowest Prices.
II. MONEY SAVING SECRETS.
5. Hunting for the Lowest Price.
Comparing Products and Prices Online-Automatically. BizRate. Froogle. mySimon. Shopping.com. Yahoo! Shopping. Comparing the Price Comparison Sites. Using Other Price Comparison Sites. What's Next: Comparing Discounts and Promotions.
6. Hunting for Rebates, Coupons, and Promotions.
Finding-And Tracking-Traditional Rebates Online. Getting Cash Back for Your Online Purchases. Using Online Coupons. Searching for Free Shipping and Other Promotions. Searching for Other Free Stuff Online. Using the Web to Print In-Store Coupons. Finding "Bricks and Mortar" Sales Online. What's Next: Where to Save Money on Your Online Purchases.
7. Hunting for Bargains at Online Malls, Catalogs, and Department Stores.
Bargain Hunting at Online Malls. Bargain Hunting with Online Catalogs. Bargain Hunting at an Online Department Store. Bargain Hunting with Online Shopping Networks. What's Next: Hunting for Closeout Merchandise.
8. Hunting for Closeout, Overstock, and Wholesale Bargains.
Secrets of Online Liquidators. Other Places to Find Clearance Merchandise. Secrets of Buying Wholesale. What's Next: Finding Bargains on eBay.
9. Hunting for Bargains at eBay and Other Online Auctions.
How Online Auctions Work. Hunting for Bargains on eBay. Secrets of Successful Bidders. Bargain Hunting at Other Online Auction Sites. What's Next: Finding Nonauction Bargains on Amazon.com.
10. Hunting for Bargains at Amazon.com.
Navigating the Amazon.com Site. Where to Find the Best Bargains on Amazon.com. Secrets of Saving Even More Money at Amazon. What's Next: Hunting for Bargains at Other Online Retailers.
III. THE BARGAIN HUNTER'S ONLINE SHOPPING DIRECTORY.
The Bargain Hunter's Online Shopping Directory.
Apparel. Art and Antiques. Automobiles and Accessories. Babies and Maternity. Books. Cameras. Catalogs. Closeout, Liquidated, and Wholesale Merchandise. Comparison Shopping and Product Research. Computer Hardware and Software. Consumer Complaints. Coupons, Promotions, and Rebates. Department Stores and Mass Merchants. Electronics. Eyewear. Flowers, Candles, and Gifts. Food and Drink. Health and Beauty. Hobbies and Collectibles. Home and Garden. Jewelry and Watches. Luggage. Movies, Music, and Videogames. Musical Instruments. Office Supplies. Online Auctions. Online Malls and Directories. Pet Supplies. Shoes. Sporting Goods. Tickets. Toys and Games. Travel. Weddings. Wholesale Clubs and Shopping Networks.
Index.
FREE

ONE MONTH ACCESS!
WITH PURCHASE
---
Get unlimited 30-day access to thousands of Books & Training Videos about technology, professional development and digital media If you continue your subscription after your 30-day trial, you can receive 30% off a monthly subscription to the Safari Library for up to 12 months.
Other Things You Might Like
eBook (Watermarked) $15.99

Book $19.99