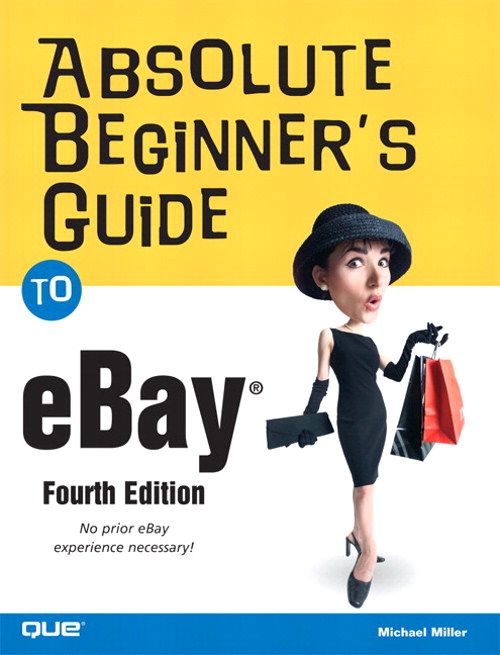 Share
|



Register your product to gain access to bonus material or receive a coupon.
Absolute Beginner's Guide to eBay, Adobe Reader, 4th Edition
eBook (Adobe DRM)
Your Price: $12.79
List Price: $15.99

ℹ This eBook requires the free Adobe® Digital Editions software.

Before downloading this DRM-encrypted PDF, be sure to:

Install the free Adobe Digital Editions software on your machine. Adobe Digital Editions only works on Macintosh and Windows, and requires the Adobe Flash Player. Please see the official system requirements.
Authorize your copy of Adobe Digital Editions using your Adobe ID (select AdobeID as the eBook vendor). If you don't already have an Adobe ID, you can create one here.
Copyright 2006
Dimensions: 7" x 9-1/8"
Pages: 432
Edition: 4th
eBook (Adobe DRM)
ISBN-10: 0-7686-6725-9
ISBN-13: 978-0-7686-6725-7
A new edition of this title is available, ISBN-10: 0789737833 ISBN-13: 9780789737830
eBay, the world's largest online trading community, has over 125 million registered users. According to the New York Times, more than 500,000 people make a full- or part-time living on eBay. On any given day there are close to 4 million items listed for auction on the eBay site. Want to make your mark on the eBay world?
Absolute Beginner's Guide to eBay, 4th Edition, is the perfect guide to help you conquer your first auction. The first three editions of this book were huge sellers, so it's only natural we would update this great book to reflect eBay's most recent upgrades and enhancements. This new edition is completely revamped to cover the way eBay is used today. It's more than just online auctions--users also buy and sell via fixed-price listings, Buy It Now, eBay Stores, Half.com, Trading Assistants, and more. You will find everything they need to know to get started in this book!
Table of Contents
Introduction 1
Part I Welcome to eBay 5
1 Understanding the eBay Marketplace 7
2 Joing Up and Getting Started 19
Part II Using eBay's Essential Tools 31
3 Understanding and Using Feedback 33
4 Researching Prodoucts with Reviews and Guides 41
5 Managing Your eBay Activity with My eBay 49
6 Creating Your Own Personal About Me Page 59
Part III Buying Merchandise on eBay 65
7 Searching for Items to Buy 67
8 Bidding in Online Auctions 79
9 Buying Fixed-Price Items 101
10 Paying for Your Purchase--and Waiting for It to Arrive 109
11 Protecting Yourself from Shady Sellers 121
12 Sniping to Win 131
13 Secrets of Successful Bidders 137
Part IV Selling Merchandise on eBay 149
14 Before You Sell: Do Your Homework! 151
15 Selling Items via Online Auction 163
16 Selling Items at a Fixed Price 189
17 Creating More Effective Item Listings 199
18 Using Pictures in Your Listings 223
19 Accepting PayPal and Other Methods of Papyment 237
20 Automating Your Listings with heBay Turbo Lister 245
21 After the Sale: Concluding the Transaction 253
22 Managing Your Sales with eBay Selling Manager 261
23 Packing and Shipping Your Items--Cheaply and Safely 271
24 Dealing with Non-Paying Buyers 293
25 Letting a Trading Assistant Sell Your Items for You 299
26 Secrets of Successful Sellers 305
Part V: Becoming a Power Seller 317
27 Using Selling Management Software and Services 319
28 Selling Internationally 327
29 Opening a Trading Assistant Business 335
30 Making a Living from eBay 343
Index 351
FREE

ONE MONTH ACCESS!
WITH PURCHASE
---
Get unlimited 30-day access to thousands of Books & Training Videos about technology, professional development and digital media If you continue your subscription after your 30-day trial, you can receive 30% off a monthly subscription to the Safari Library for up to 12 months.