Featured Video
In the 17+ hours of video training in Android 6 App Development Fundamentals I and II, 3rd Edition, Paul Deitel—best-selling author and Oracle Java Champion—carefully introduces you to Android app development. Using the Deitel's signature App-Driven Approach in which all concepts are presented in the context of complete working apps, you'll build seven Android apps that introduce everything you need to start creating your own. Along the way, you'll lean to master the Android APIs and FrameWorks needed to become a successful Android app developer.

Bash Scripting Fundamentals LiveLessons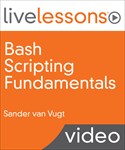 Bash Scripting Fundamentals LiveLessons teaches shell scripting to novice as well as experienced Linux administrators and users. This course consists of eight lessons in which all concepts that are relevant to bash shell scripting are explained. Each lesson contains many practical examples to show how scripting solutions are being used in the real world. Each lesson concludes with an exercise, followed by an exercise explanation that makes this course an ideal solution for learning to program the bash shell.

Quick Links
Articles & Sample Chapters

Blogs

Contact Us

Facebook

Join the Site

Newsletters

Podcasts

Promotions

RSS Feeds

Series

Store

Video Tutorials
---