Featured eBook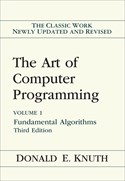 Art of Computer Programming, Volume 1 begins with basic programming concepts and techniques, then focuses more particularly on information structures–the representation of information inside a computer, the structural relationships between data elements and how to deal with them efficiently. Elementary applications are given to simulation, numerical methods, symbolic computing, software and system design. Dozens of simple and important algorithms and techniques have been added to those of the previous edition. The section on mathematical preliminaries has been extensively revised to match present trends in research.

Completely updated for iOS 7 and Xcode 5
This book brings together reliable, proven solutions for the heart of day-to-day iOS 7 development. Renowned iOS programming expert Erica Sadun and top iOS developer Rich Wardwell cover all you need to create successful iOS 7 mobile apps with standard APIs and interface elements and take full advantage of iOS 7 graphics, touches, and views. As in all of Sadun's iOS bestsellers, The Core iOS Developer's Cookbook translates modern best practices into working code, distilling key concepts into concise recipes you can easily understand and apply in your own projects.

Buy the Book + eBook Bundle for $80.98 $48.59

Buy the Book for $44.99 $35.99
Build Agile Cultures That Unleash Passion, Innovation, and Performance
What do you want? Delighted customers. How do you get them? By rapidly delivering innovative, exciting products and services your customers will love to use. How do you do this? By uniting talented people around shared ideas and purpose, trusting them, helping them take ownership, and getting out of their way. It sounds easy—but you know it isn't. To make it happen, you must create an agile culture: one that's open to change and can respond quickly to whatever your customers need and desire. The Agile Culture gives you proven models, pragmatic tools, and handy worksheets for doing just that.

Buy the Book + eBook Bundle for $57.98 $34.69

Buy the Book for $31.99 $25.59
Featured Book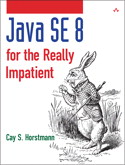 Eagerly anticipated by millions of programmers, Java SE 8 is the most important Java update in many years. The addition of lambda expressions (closures) and streams represents the biggest change to Java programming since the introduction of generics and annotations. Now, with Java SE 8 for the Really Impatient, internationally renowned Java author Cay S. Horstmann concisely introduces Java 8's most valuable new features (plus a few Java 7 innovations that haven't gotten the attention they deserve). If you're an experienced Java programmer, Horstmann's practical insights and sample code will help you quickly take advantage of these and other Java language and platform improvements.

Buy the Book + eBook Bundle for $71.98 $43.19

Buy the Book for $$39.99 $31.99