Telecommunications has come a long way over the years. Annabel Z. Dodd demystifies the current trends and technologies that are important to you - from cloud services to social networks, mobile video to telepresence.
Get up-to-date with the fifth edition of The Essential Guide to Telecommunications. Dodd explains the new technologies – in plain English. You'll learn about industry leaders and their strategies for staying on top in a rapidly changing environment. Read about the evolution of the telecom market in this new edition – a quicker read.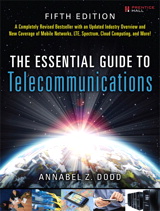 Today's trivia question: At which two universities has author Annabel Z. Dodd taught?
Leave your answer below and tell us if you are certified – if so what's been your experience?
Tell your friends! We'll be announcing #TuesdayTrivia via @informit on Twitter. Stay tuned for more great prizes!
Answer correctly and three randomly selected winners will receive:
(1) eBook copy of The Essential Guide to Telecommunications, Fifth Edition by Annabel Z. Dodd
Rules: Answer question by leaving a comment below (one per person, all duplicates will not be counted) by 12:01 am EST on June 29, 2012. Three winners will be randomly selected from all correct answers and notified by a comment from the Pearson IT Certification team on their post.
Preorder your copy today!