With today's "connected life" running 24/7, we recognize it's hard to keep up with all your favorite websites and tech resources. The IT List is here to help you cut through the noise. Check back each Friday for a quick digest of articles, resources, promotions, and other goodies worth a first or second look on InformIT.
The IT List: What You Missed This Week on InformIT [7/11/14]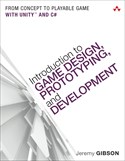 1. Hot off the Press: Award-winning game designer and professor Jeremy Gibson has spent the last decade teaching game design and working as an independent game developer. Over the years, his most successful students have always been those who effectively combined game design theory, concrete rapid-prototyping practices, and programming skills. Introduction to Game Design, Prototyping, and Development is the first time that all three of these disciplines have been brought together into a single book. It is a distillation of everything that Gibson has learned teaching hundreds of game designers and developers in his years at the #1 university games program in North America.
Want more? Check out our best value book+eBook bundle, download free sample pages, or catch Jeremy speaking at IndieCade East this fall.
2. Ask an Expert: Windows 8.1 devices are capable of connecting to the Internet and other devices in myriad ways. In this chapter from Programming the Windows Runtime by Example: A Comprehensive Guide to WinRT with Examples in C# and XAML, Jeremy Likness and John Garlandsome of these more advanced methods and how to integrate them into your own apps.
3. Career Advice: Bookmark new articles from Matthew Moran, author of Building Your I.T. Career: A Complete Toolkit for a Dynamic Career in Any Economy, to get an edge on your professional development and goals.
4. Sneak Peek: Learning AngularJS LiveLessons from Marc Wandschneider provides developers with a practical introduction to AngularJS, an exciting JavaScript framework for developing web applications called single-page apps (SPAs). Pre-order today!
Have a great weekend. See you next Friday!