With today's "connected life" running 24/7, we recognize it's hard to keep up with all your favorite websites and tech resources. The IT List is here to help you cut through the noise. Check back each Friday for a quick digest of articles, resources, promotions, and other goodies worth a first or second look on InformIT.
The IT List: What You Missed This Week on InformIT [4/25/14]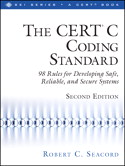 1. Hot off the Press: Secure programming in C can be more difficult than even many experienced programmers realize. To help programmers write more secure code, The CERT® C Coding Standard, Second Edition, fully documents the second official release of the CERT standard for secure coding in C. The rules laid forth in this new edition by Robert C. Seacord will help ensure that programmers' code fully complies with the new C11 standard; it also addresses earlier versions, including C99.
Want more? Read the preface or download sample pages (including chapters 3, 7, and 13).
2. Ask an Expert: Apps for mobile platforms might seem simple, but they're far from it. Programs that run on smartphones and tablets have their own style and rules, which are far different from the protocols and techniques established on their desktop computer ancestors. Cameron Banga and Josh Weinhold share five tips for perfecting your app designs in ways that will help you meet or exceed your users' expectations.
3. Resource Center: Whether you are just starting out with Python or looking for a go-to reference, our collection of books and video training has you covered. Visit the our new Python Programming Resource Center to find recommended titles and learning resources. Added bonus? Enter your email address and download a free video lesson from Katie Cunningham's Python Guide for the Total Beginner LiveLessons.

4. Behind the Scenes: We're hard at work on new products from the LiveLessons Video Training series. Here's a snapshot from our new studio space in New York City – take a peek!
Have a great weekend. See you next Friday!