With today's "connected life" running 24/7, we recognize it's hard to keep up with all your favorite websites and tech resources. The IT List is here to help you cut through the noise. Check back each Friday for a quick digest of articles, resources, promotions, and other goodies worth a first of second look on InformIT.
The IT List: What You Missed This Week on InformIT [5/2/14]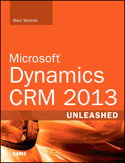 1. Hot off the Press: Microsoft® Dynamics CRM 2013 Unleashed presents start-to-finish guidance for planning, customizing, deploying, integrating, managing, and securing both cloud and on-premise based versions of Dynamics CRM. Leading Dynamics implementer Marc Wolenik fully covers Microsoft Dynamics CRM 2013, Microsoft Dynamics CRM Online Fall '13, and many features first introduced in Microsoft's "Polaris" and Update Rollup 12.
Want more? Download sample pages (includes Chapter 3 and Index) and check out the print + eBook best value bundle.
2. Ask an Expert: Stephen B. Morris digs deeper into the terrain between C++ and Python, both of which provide powerful exception-management facilities. Later maintainers of your code will thank you for implementing decent exception logic! In addition to the maintenance advantages, careful use of exception handlers can facilitate effective integration between Python and C++. Read the article "Exception Management in C++ and Python Development: Planning for the Unexpected."
3. Now Open: Congratulations to our friends at Microsoft Press on the launch of microsoftpressstore.com! Microsoft Press products will continue to be available on InformIT, Pearson IT Certification, and Que Publishing, but be sure to check out their new site special and save 40% on all books & eBooks through May 11, 2014.
4. Women in Tech: Tobi Bosede chronicles her experience of being a double minority in the field of technology. Visit the InformIT Women in Tech Resource Center to hear more from today's industry practitioners, community champions, and students.
Have a great weekend. See you next Friday!