Home > Store > Certification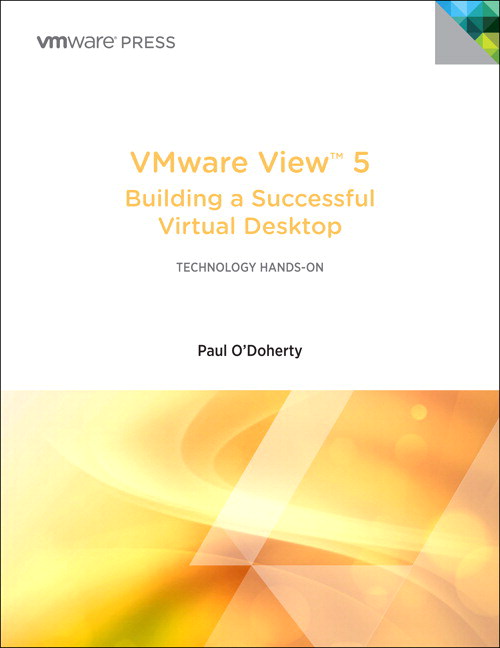 Share
|



Register your product to gain access to bonus material or receive a coupon.
VMware View 5: Building a Successful Virtual Desktop
Published Nov 26, 2012 by VMware Press.
eBook (Watermarked)
Your Price: $31.99
List Price: $39.99
Includes EPUB, MOBI, and PDF

This eBook includes the following formats, accessible from your Account page after purchase:

EPUB The open industry format known for its reflowable content and usability on supported mobile devices.

MOBI The eBook format compatible with the Amazon Kindle and Amazon Kindle applications.

PDF The popular standard, used most often with the free Adobe® Reader® software.

This eBook requires no passwords or activation to read. We customize your eBook by discretely watermarking it with your name, making it uniquely yours.
Copyright 2013
Dimensions: 7" x 9-1/8"
Pages: 600
Edition: 1st
eBook (Watermarked)
ISBN-10: 0-13-298369-9
ISBN-13: 978-0-13-298369-3
VMware View 5 for the Desktop
DELIVER HIGH-VALUE VIRTUAL DESKTOP INFRASTRUCTURE AND A SUPERIOR USER EXPERIENCE
Companies that have already realized the benefits of VMware server virtualization are now discovering that
VMware View 5 offers equally powerful opportunities on the client side. VMware View 5 is a comprehensive
enterprise-class solution. But, until now, crucial information about it has been scattered throughout dozens
of technical documents. In VMware View 5, leading desktop virtualization expert Paul O'Doherty combines
this critical information with deep insights and best practices from his extensive enterprise deployment
experience.
O'Doherty walks through every step, from the earliest planning phases through configuration,
implementation, and management. He addresses important considerations ranging from changes to
end-user experience through support and performance management. You'll learn how to plan and smoothly
stage virtual desktop infrastructure deployments, and avoid pitfalls associated with latency, scalability,
storage, and networking.
Whether you're an architect, system administrator, or virtualization consultant, this guide's proven
techniques can help you dramatically improve IT productivity as you build environments that are far more
flexible and easier to manage.
COVERAGE INCLUDES
Understanding the business value of desktop virtualization, and how VMware View delivers it

Engaging end users in the process of delivering desktop services

Using vSphere virtual infrastructure to add even more value to the virtual desktop

Properly installing and configuring VMware View environments, including View Persona

Virtualizing applications with ThinApp

Building and tuning virtual desktops for optimal performance

Managing ThinApp packages and pools in complex enterprise environments

Protecting virtualized desktops against malware with VMware vShield EndPoint

Delivering a rich, high-performance user experience

Using Offline Desktops to serve tablets and other mobile devices

Migrating from older versions of View

Providing high availability and addressing single points of failure

Monitoring and actively managing virtual desktops by integrating vCenter Operations Manager with VMware View Adapter
Paul O'Doherty is a Cloud Solution Manager at Onx.com, and has spent 20 years designing, implementing,
and managing IT infrastructures in highly available computing environments. His experience with virtualization
includes OS virtualization, storage virtualization, application virtualization, and WAN optimization. He
holds numerous industry certifications, publishes reviews at virtualization.info, and maintains the popular
virtualization site virtualguru.org.
Table of Contents
Preface xv
Acknowledgments xix
About the Author xx
1 Virtual Desktop Infrastructure Overview 1
The Evolution of the Virtual Desktop 1
Where Did It All Start? 1
The Importance of Application Virtualization 6
The Importance of User Data Management 9
The Importance of Multimedia 10
VoIP 11
Considerations for Deploying VDI 11
Thin Clients 15
Test Failure Scenarios 16
Engage the Users 17
Planning for VMware View 17
Summary 31
2 VMware View Architecture 33
Virtual 33
Infrastructure Introduction 34
VMware vSphere 5 Architecture 39
VMware vSphere 5 40
VMware ESXi 40
vCenter Server 41
Network 46
Storage 50
VMware View Architecture 50
Load Balancing 51
Active Directory 53
Summary 67
3 VMware View 5 Implementation 69
Preparing a vCenter Installation 69
Installing Microsoft SQL Server 73
Full Backup 82
Differential 89
Log Backups 89
Installing vCenter 90
Installing vSphere 98
Auto Deploy 102
Host Profiles 112
Storage Connectivity 115
Installing VMware View 116
Configuring the View Connection Server 120
Adding vCenter Server 123
Configuring the Transfer Server 126
Adding the Transfer Server 128
Adding the Image Repository 129
Publishing Virtual Machine for Offline Mode 129
The Event Database 129
Persona Management 132
Security Servers 133
Firewall Rules 135
Adding the Security Servers 135
Summary 138
4 Application Virtualization 139
Why Virtualize Applications? 139
Setting Up the ThinApp Packaging Environment 141
ThinApp Packages and Microsoft Activation 156
Creating a Package 157
Deploying a Package Through View 168
Summary 171
5 Building Your Virtual Desktop 173
P2V or Clean Build? 173
Manually Installing Windows 7 175
Manually Installing the VMware View Agent 179
Installing Windows 7 Through VMware Workstation 181
Installing an Image Through vCenter 186
General Optimizations 197
Operating System Optimizations 198
Manually Installing Windows 2008 RDS Server 199
Making a Terminal Server Look Like a Desktop 199
View Persona Management 202
View Persona Management: A New Approach 209
Completing the Cycle of Persona Management 210
Summary 210
6 View Operations and Management 211
Managing a VMware View Environment 211
Using View Folders 212
Types of Desktop Pools 214
Automated Desktop Pools 215
Manual Desktop Pools 215
Microsoft Terminal Services Desktop Pool 215
Creating Desktop Pools 216
SysPrep or QuickPrep? 223
Power Options 225
Pool Settings 228
View Composer Settings 234
View Composer Disks 235
vCenter Settings 235
Provisioning Settings 239
Entitlement 241
View Composer 242
Replicas 243
Refresh 245
Recompose 248
Rebalance 249
Managing Persistent Disks 251
Managing Applications 254
Updating ThinApp Packages 254
About Relink 254
Inplace Upgrades 256
SandBox Merge 257
Using AppSync 261
Summary 266
7 VMware vShield EndPoint 267
VMware vShield EndPoint 267
High-Level Architecture 268
vSphere Update Manager 271
Creating the 32-Bit ODBC Connection 273
Installing Update Manager 277
Configuring Update Manager 284
Patching Your Environment 293
Adding the vShield Manager to the vSphere Environment 300
Adding the vShield Driver to Your VMs 307
Plugging In Your Third-Party Solution 308
Integrating vShield and Trend Micro Deep Security 315
Summary 329
8 A Rich End-User Experience 331
How Do You Deliver a Rich End-User Experience? 332
Enhancements in PCoIP 334
Building a Performance Test Environment 336
Installing and Configuring WANem 340
Installing and Configuring WireShark 346
Tuning PCoIP 350
Tuning Parameters 351
Further Analysis 357
PCoIP Bandwidth Utilization 361
PCoIP Bandwidth Rate Limiting 362
PCoIP Connection Quality 363
PCoIP Packet Counts 363
PCoIP Connection Latency 364
Encoding Graphs 364
The Impact of Load or IOPS 366
Setting Up VMware ViewPlanner 367
Setting Up the Client Desktop 371
Summary 372
9 Offline Desktops 373
Why Deliver an Offline Desktop? 373
Best Practices 384
Summary 389
10 Migrating from Older Versions of View 391
Upgrading to New Versions of View 391
Upgrading Example 393
Summary 417
11 High Availability Considerations 419
Making Your View Environment Resilient 419
Storage Heartbeats 423
Configuring iSCSI Multipathing 427
VMware FT 430
vCenter Heartbeat 431
Installing VMware vCenter Server Heartbeat 432
Configuring VMware vCenter Server Heartbeat 438
Testing VMware vCenter Server Heartbeat 441
Other Services and Considerations 442
High Availability Scenario 446
Deploying a Microsoft Cluster on vSphere 448
Creating a Microsoft Windows 2008 R2 Cluster 449
Connecting the Windows Cluster to the SAN 451
Using MCS 452
Configuring MCS 453
Using MPIO 457
Configuring MPIO 458
Preparing the Volumes 465
Installing the Microsoft Cluster 466
Configuring the Cluster 468
Adding File Services and the Distributed File System 470
Distributed File System 475
Installing and Configuring DFS 475
Setting Up Windows NLB 477
Updating Cisco Switches to Support NLB 478
Summary 479
12 Performance and Monitoring 481
Establishing a Performance Baseline 481
Installing vCenter Operations 482
Create an IP Pool 484
Deploy vCenter Operations 487
Configure vCenter Operations 488
License vCenter Operations 490
Summary 509
Index 511
FREE

ONE MONTH ACCESS!
WITH PURCHASE
---
Get unlimited 30-day access to thousands of Books & Training Videos about technology, professional development and digital media If you continue your subscription after your 30-day trial, you can receive 30% off a monthly subscription to the Safari Library for up to 12 months.
Other Things You Might Like



Book $47.99