Home > Store > Business & Management > Management & Strategy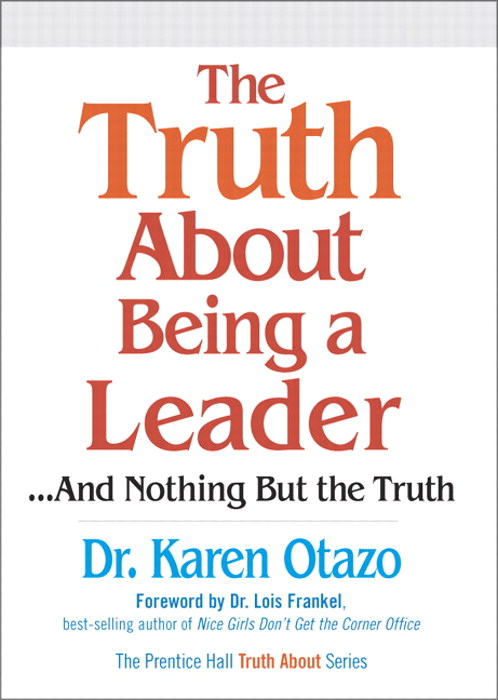 Share
|



Register your product to gain access to bonus material or receive a coupon.
Truth About Being a Leader, The
Book
This product currently is not for sale.
eBook (Watermarked)
Your Price: $18.39
List Price: $22.99
Includes EPUB, MOBI, and PDF

This eBook includes the following formats, accessible from your Account page after purchase:

EPUB The open industry format known for its reflowable content and usability on supported mobile devices.

MOBI The eBook format compatible with the Amazon Kindle and Amazon Kindle applications.

PDF The popular standard, used most often with the free Adobe® Reader® software.

This eBook requires no passwords or activation to read. We customize your eBook by discretely watermarking it with your name, making it uniquely yours.
Copyright 2007
Dimensions: 5-1/8x7-1/8
Pages: 256
Edition: 1st
Book
ISBN-10: 0-13-187338-5
ISBN-13: 978-0-13-187338-4
When it comes to effective leadership, everyone has an opinion. But you don't need opinions: you need proven, real-world solutions, based on facts and evidence. That's what The Truth About Being a Leader delivers: high-power leadership techniques you can use every day, whether you lead one person or 100,000.
Dr. Karen Otazo has spent more than 20 years coaching executives in virtually every type of organization. She's worked personally with more than 2,000 individuals, from interns to CEOs. Now, drawing on hundreds of secret leadership feedback reports, she reveals what actually works—and doesn't work— when it comes to being a great leader.
You'll find simple, easy-to-use techniques for smoothly assuming new leadership roles...honing your style...maximizing your impact...crafting a vision, shaping strategies, and getting buy-in... using power wisely...handling tough coaching and feedback sessions...avoiding leadership pitfalls... strengthening key leadership relationships...inspiring people, building world-class teams, and achieving outstanding results.
Prepare for the toughest challenges of leadership
Widen your "mental bandwidth" in seven key areas
Get beyond the numbers
Learn how to use all your resources, tangible and intangible
Sharpen your vision, and communicate it crisply
Engage, motivate, and inspire all your audiences
Don't let stress impact your performance
Manage your stress, manage your energy
Use power wisely, and choose your battles
Apply the right touch: not too light, not too heavy-handed
Grow your people, grow your team
Develop outstanding people, achieve outstanding results
Leaders aren't born, they're made... and you can make yourself a great leader, starting today! This book's 52 proven leadership principles and bite-size, easy-to-use techniques that work!
Downloadable Sample Chapter
Table of Contents
Foreword xiii
Introduction xix
PART I: THE TRUTH ABOUT ASSUMING A LEADERSHIP POSITION 1
TRUTH 1 More-Responsible Roles Require More Mental "Bandwidth" 3
TRUTH 2 Inheriting an Assistant Requires Reeducation 6
TRUTH 3 Staffing Your Leadership Office: Your Assistant Plays a Vital Role 10
TRUTH 4 The Gaps in Your Work Habits Show Up When You Move Up 14
TRUTH 5 The Truth About Effective Leadership Styles 21
TRUTH 6 Soft-Spoken Leadership Requires Stamina 23
TRUTH 7 Bullshit Makes Good Fertilizer–Just Watch Your Step 26
TRUTH 8 Player/Coach Is a Tricky Role, So Make Sure That You Do Both Well 29
TRUTH 9 Caring Leaders Treat Their Teams Like Family 32
TRUTH 10 Innovation Requires Preparation 35
PART III: THE TRUTH ABOUT WHAT YOU SAY AS A LEADER 39
TRUTH 11 Match Your Leadership Message to Your Audience 41
TRUTH 12 Impactful Leaders Speak Simply 44
TRUTH 13 Sound Bites Need to Sizzle 47
TRUTH 14 Your Tone of Voice Should Command Attention 50
TRUTH 15 Names Matter to People, So Get Them Right 53
TRUTH 16 "Coming Attractions" Get Others Tuned in to Your Message 57
PART IV: THE TRUTH ABOUT LEADERSHIP VISION 61
TRUTH 17 What's the Big Idea? Bring Your Guiding Rules into Everyday Organizational Life 63
TRUTH 18 Stories Help Make Change Clear 67
TRUTH 19 Playing Out the Tape Helps Others Prepare for the Future 70
TRUTH 20 Leaders Frame the Discussion 3
PART V: THE TRUTH ABOUT LEADERSHIP PRESENCE AND POWER 77
TRUTH 21 A Leader Is Always "On" 79
TRUTH 22 Choose Your Battles Carefully 82
TRUTH 23 Your Stress Ripples Across the Organization 85
TRUTH 24 Let Your Energy Be Like Fine Champagne–Not Too Bubbly or Flat 89
TRUTH 25 You Need to "Read" Like a Leader in the Blink of an Eye 92
TRUTH 26 Good Leadership Is the Wise Use of Power 96
PART VI THE TRUTH ABOUT GETTING THINGS DONE 101
TRUTH 27 Often the Best Decision Is Empowering Someone Else to Decide 103
TRUTH 28 Adjust Your Leadership Style to Fit the Employee 106
TRUTH 29 No Good Deed Goes Unpunished 109
TRUTH 30 The Structure Is Not the Organization, Just as the Map Is Not the Territory 112
TRUTH 31 Coming in from the Outside? Pay Your Dues! 115
TRUTH 32 Delegation Is a Confidence Game 119
PART VII: THE TRUTH ABOUT MOTIVATING AND INSPIRING YOUR TEAM 123
TRUTH 33 Questions Unite; Answers Divide 125
TRUTH 34 Feedback Is the Best Kind of Criticism 128
TRUTH 35 You Have More Than the Carrot and the Stick 131
TRUTH 36 Quick Coaching Keeps Your Team on Course 134
TRUTH 37 Little Things Mean a Lot 136
PART VIII: THE TRUTH ABOUT MOLDING YOUR TEAM 139
TRUTH 38 A Leader Cares Passionately About Developing People 141
TRUTH 39 Succession Planning Ensures Your Bench Strength 144
TRUTH 40 Your Team Is Key to Your Success, So Vet Them Well 149
TRUTH 41 Dedicate Your Coaching Time Where It Does the Most Good 152
TRUTH 42 Awkward Discussions Are Tough; Play Offense, Not Defense 155
PART IX: THE TRUTH ABOUT YOUR LEADERSHIP REPUTATION 159
TRUTH 43 Ideas Come Across Differently with Different Media 161
TRUTH 44 You Can't Hide the Sun with Your Hand: Be Honest 165
TRUTH 45 Spouses and Partners Must Be on Their Best Behavior 169
TRUTH 46 You Don't Get Your Meat Where You Get Your Potatoes 173
TRUTH 47 Don't Get Tangled in the Grapevine 176
PART X: THE TRUTH ABOUT YOUR CONNECTIONS 179
TRUTH 48 You Can't Microwave Your Leadership Relationships 181
TRUTH 49 Your Network Is Your Lifeline to Influence and Information 185
TRUTH 50 Peers and Power Are a Potent Mix 188
TRUTH 51 It's Lonely at the Top; Keep It That Way 191
TRUTH 52 Trust and Loyalty Are Long-Term Goals 194
References 199
FREE

ONE MONTH ACCESS!
WITH PURCHASE
---
Get unlimited 30-day access to thousands of Books & Training Videos about technology, professional development and digital media If you continue your subscription after your 30-day trial, you can receive 30% off a monthly subscription to the Safari Library for up to 12 months.
Other Things You Might Like