Home > Store > Home & Office Computing > The Web/Virtual Worlds/Social Networking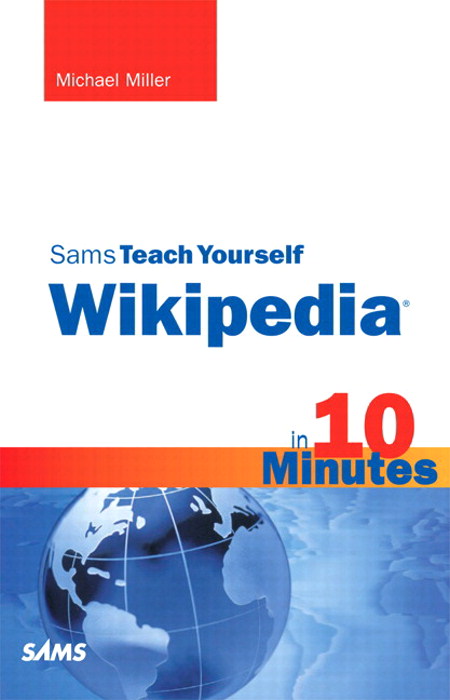 Share
|



Register your product to gain access to bonus material or receive a coupon.
Sams Teach Yourself Wikipedia in 10 Minutes
eBook (Watermarked)
Your Price: $9.59
List Price: $11.99
Includes EPUB, MOBI, and PDF

This eBook includes the following formats, accessible from your Account page after purchase:

EPUB The open industry format known for its reflowable content and usability on supported mobile devices.

MOBI The eBook format compatible with the Amazon Kindle and Amazon Kindle applications.

PDF The popular standard, used most often with the free Adobe® Reader® software.

This eBook requires no passwords or activation to read. We customize your eBook by discretely watermarking it with your name, making it uniquely yours.
Copyright 2010
Pages: 208
Edition: 1st
eBook (Watermarked)
ISBN-10: 0-13-264957-8
ISBN-13: 978-0-13-264957-5
Sams Teach Yourself Wikipedia in 10 Minutes gives you straightforward, practical answers when you need fast results. By working through the 10-minute lessons, you'll learn everything you need to know to take advantage of the Wikipedia encyclopedia—and all of Wikipedia's incredible resources.
Tips point out shortcuts and solutions
Cautions help you avoid common pitfalls
Notes provide additional information
Plain English explains new terms and definitions
10 minutes is all you need to learn how to…
Navigate the Wikipedia site and discover its latest capabilities
Use Wikipedia for fast, efficient research
Verify Wikipedia information and check references
Edit, correct, improve, and discuss existing Wikipedia articles
Write new Wikipedia articles, and add images and media to them
Find word definitions in Wiktionary and quotations in Wikiquote
Download Wikimedia Commons photos you can freely reuse
Read and edit free textbooks with Wikibooks
Link to Wikipedia content on your own website
Participate in the Wikipedia community
Table of Contents
Introduction 1
What You Need to Know Before You Use This Book 1
About the Sams Teach Yourself in 10 Minutes Series 1
Special Sidebars 2
1 Getting to Know Wikipedia 3
Welcome to the World of Wikis 3
How Wikis Work 3
Wiki History 4
Wikipedia: The World's Largest Encyclopedia 5
How Wikipedia Works 5
Issues with Wikipedia 7
Accuracy 7
Depth of Coverage 8
Beyond the Issues 8
Other Wikipedia Sites 8
Summary 10
2 Navigating the Wikipedia Site 11
Welcome to Wikipedia's Main Page 11
Navigating Wikipedia 14
Featured Content 15
Topic Portals 16
Browsing by Category 17
Using the A-to-Z Index 18
Timelines 19
Outlines 19
Glossaries 20
Wikipedia in Different Languages 21
Summary 23
3 Searching for Information 25
Conducting a Search 25
Viewing Search Results 26
Searching from Search 26
Searching from Go 27
Conducting an Advanced Search 28
Searching Other Sites 30
Fine-Tuning Your Search 30
Wildcards and Fuzzy Queries 30
Exact Phrases 31
Boolean Searches 31
Intitle Queries 32
Summary 32
4 Reading a Wikipedia Article 33
Behind the Articles 33
The Main Article 34
Finding Additional Information 37
Footnotes and References 38
Discussions and History 39
Summary 39
5 Verifying Information and Checking References 41
How Accurate Is an Article? 41
Referencing Sources 42
Verifying Information 44
Summary 45
6 Going Beyond an Article 47
Reading Related Articles 47
Viewing Related Web Pages 49
Summary 50
7 Tracking Changes to an Article 51
Viewing an Article's History 51
Examining the History Tab 52
Comparing Revisions 53
Filtering the Revision History 54
Searching an Article's History 55
Keeping Track of New Changes 56
Viewing the Watch List 56
Viewing History via RSS Feed 57
Summary 58
8 Discussing an Article 59
Viewing a Talk Page 59
Entering a Discussion 61
Responding to an Existing Topic 61
Entering a New Topic 62
What's Allowed–and What's Not 63
Summary 63
9 Editing an Existing Article 65
All About Editing 65
Making Your Edits 66
Understanding the Wiki Markup Language 68
Article Links 68
Category Page Links 69
External Links 69
Book Sources Link 70
Image and Sound Links 71
Headings 72
Citation References 73
Text Formatting 74
Variables 74
Categorizing an Article 75
Comments 75
Table of Contents 75
Citing Sources 76
Summary 77
10 Contributing a New Article 79
Is the Topic Available? 79
Creating the Article 80
Structuring the Article 81
Summary 82
Table of Contents 82
Sections and Section Headings 82
Images 83
Citations 83
Appendixes 84
Tips for Writing a New Article 84
Summary 85
11 Incorporating Pictures and Other Media in
Your Article 87
Uploading Pictures and Other Media Files 87
Image Formats 89
Adding Images to Your Article 89
Basic Images 89
Aligning the Image 90
Creating a Photo Gallery 91
Inserting Audio Files 92
Inserting Video Files 93
Summary 93
12 Finding Pictures in the Wikimedia Commons 95
Understanding the Commons 95
Copyright and Licensing 96
Finding Media in the Commons 97
Browsing for Media 98
Searching for Media 99
Viewing Media Files 99
Downloading Files for Your Own Use 101
Using Files in Wikipedia Articles 101
Uploading Files to the Commons 102
Image Files 102
Audio and Video Files 103
Making the Upload 103
Describing Your File 105
Summary 105
13 Asking Questions at the Reference Desk 107
Understanding the Reference Desk 107
Asking a Question 109
Responding to a Question 111
Summary 112
14 Looking Up Words in the Wiktionary 113
Understanding the Wiktionary 113
Browsing the Wiktionary 115
Searching the Wiktionary 116
Understanding a Wiktionary Entry 116
Contributing to the Wiktionary 119
Creating New Entries 119
Editing Existing Entries 120
Summary 121
15 Finding Quotable Quotations with Wikiquote 123
Getting to Know Wikiquote 123
Looking Up Quotes 124
Browsing for Quotes 124
Searching for Quotes 125
Viewing a Quote Page 126
Creating and Editing Quotes 128
Editing Existing Quotes 128
Creating New Entries 129
Summary 130
16 Getting the Latest News with Wikinews 131
Understanding Wikinews 131
Reading Wikinews Articles 132
Sharing a Wikinews Article 133
Writing and Editing Wikinews Articles 135
Writing a New Article 135
Editing an Existing Article 137
Summary 138
17 Reading and Editing Books Online 139
Understanding Online Collaborative Books 139
Using Wikibooks 140
Browsing and Reading Wikibooks 140
Printing a Wikibook 143
Editing a Wikibook 144
Starting a New Book 145
Using Wikijunior 146
Using Wikisource 148
Using Wikiversity 150
Summary 151
18 Linking to Wikipedia Content on Your Own Website 153
Why Link to Wikipedia? 153
Creating a Link 154
Summary 155
19 Using Wikipedia for Research and School Papers 157
Trusting Wikipedia–or Not 157
Using Wikipedia as a Starting Point 158
Researching Citations 159
Researching Additional Sources 159
Researching an Article's History 160
Referencing Wikipedia–or Not 161
Wikipedia: Not a Primary Source 161
Citing Wikipedia 162
Summary 162
20 Participating in the Wikipedia Community 163
About the Wikipedia Community 163
Welcome to the Community Portal 164
Discussing Things at the Village Pump 165
Other Ways to Communicate 166
Discussion Pages 167
User Pages 167
Mailing Lists 168
Getting Help with Wikipedia 168
Summary 169
21 Using Wikipedia on Your iPhone 171
Wikipedia on Safari 171
Wikipedia Applications 173
Wiki Mobile 173
Wikipanion 174
Summary 175
Index 177
FREE

ONE MONTH ACCESS!
WITH PURCHASE
---
Get unlimited 30-day access to thousands of Books & Training Videos about technology, professional development and digital media If you continue your subscription after your 30-day trial, you can receive 30% off a monthly subscription to the Safari Library for up to 12 months.
Other Things You Might Like

eBook (Adobe DRM) $14.39
eBook (Watermarked) $25.59