Home > Store > Business & Management > Management & Strategy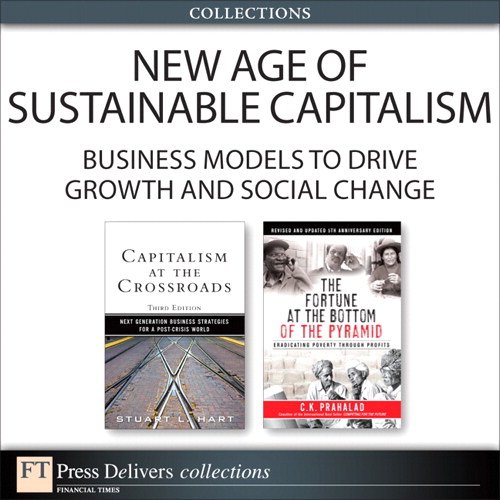 Share
|



Register your product to gain access to bonus material or receive a coupon.
New Age of Sustainable Capitalism: Business Models to Drive Growth and Social Change (Collection), The
eBook (Watermarked)
Your Price: $43.99
List Price: $54.99

This PDF will be accessible from your Account page after purchase and requires the free Adobe® Reader® software to read it.

The eBook requires no passwords or activation to read. We customize your eBook by discretely watermarking it with your name, making it uniquely yours.
Copyright 2013
Pages: 785
Edition: 1st
eBook (Watermarked)
ISBN-10: 0-13-344869-X
ISBN-13: 978-0-13-344869-6
A brand new collection of cutting-edge guides to sustainable capitalism
Translate sustainability and "base of the pyramid" strategies into real profits
It's time for capitalism's next reinvention. In the new Third Edition of his best-selling Capitalism at the Crossroads, Third Edition, Stuart L. Hart reveals tomorrow's capitalism. He presents new case studies and practical strategies for building companies that are more sustainable, build deeper roots in their markets, play a central role in solving social and environmental problems – and are far more profitable. Hart helps you identify sustainable products and technologies that will drive urgently needed growth and help solve social and environmental problems at the same time. Drawing on his experience consulting with top companies and NGOs worldwide, he shows how to craft your optimal sustainability strategy, and overcome the pitfalls of traditional 'greening' approaches. This edition presents new and updated case studies from the US and beyond, demonstrating what's working and what isn't. It also guides business leaders in building an "infrastructure for sustainability" – one that can survive budgeting and boardrooms, recharging innovation and growth throughout your enterprise. Next, in the 5th Anniversary Edition of his classic The Fortune at the Bottom of the Pyramid, C.K. Prahalad reveals all that's been learned about competing and profiting "at the bottom of the pyramid." Prahalad outlines the latest strategies and tactics that companies are utilizing to succeed in the developing world. He interviews innovative CEOs to discuss what they've learned from their own initiatives, including the Unilever business leader who's built a billion-dollar business in India. You'll find a new case study on Jaipur Rugs' innovative new global supply chain; updates to earlier editions' key cases; and up-to-the-minute information on key industries such as wireless, agribusiness, healthcare, consumer goods, and finance. Prahalad also offers an up-to-date assessment of the key questions his ideas raised: Is there truly a market? Is there scale? Is there profit? Is there innovation? Is this a global opportunity? Five years ago, executives could hope the answers to these questions would be positive. Now, as Prahalad demonstrates, they can be certain of it.
From the world-renowned experts in sustainable capitalism Stuart L. Hart and C.K. Prahalad
Table of Contents
Capitalism at the Crossroads: Next Generation Business Strategies for a Post-Crisis World
About the Author xi
Acknowledgments xii
Preface: Al Gore, Former Vice President of the United States xxiii
Foreword: Fisk Johnson, Chairman and CEO, S. C. Johnson & Son, Inc xxvi
PART ONE: MAPPING THE TERRAIN 1
Prologue: Reinventing Capitalism for the Post-Crisis World 3
Chapter 1: From Obligation to Opportunity 19
Chapter 2: Worlds in Collision 51
Chapter 3: The Sustainable Value Portfolio 79
PART TWO: BEYOND GREENING 109
Chapter 4: Clean Technology and Creative Destruction 111
Chapter 5: Innovation from the Bottom-Up 137
Chapter 6: Raising the Base of the Pyramid 171
PART THREE: BECOMING INDIGENOUS 201
Chapter 7: Broadening the Corporate Bandwidth 203
Chapter 8: Developing Native Capability 227
Chapter 9: Re-Embedding Innovation Strategy 253
Chapter 10: Building the Sustainable Global Enterprise 281
Epilogue: Looking Forward 307
Index 315
The Fortune at the Bottom of the Pyramid, Revised and Updated 5th Anniversary Edition: Eradicating Poverty Through Profits
Preface xiii
Guide to Readers xx
Part I Private Sector and Poverty: Progress During 2004-2009 1
New Introduction: Private Sector and Poverty: Progress During 2004-2009 3
Part II The Original Text of the Book 25
Chapter 1 The Market at the Bottom of the Pyramid 27
Chapter 2 Products and Services for the BOP 47
Chapter 3 BOP: A Global Opportunity 73
Chapter 4 The Ecosystem for Wealth Creation 89
Chapter 5 Reducing Corruption: Transaction Governance Capacity 103
Chapter 6 Development as Social Transformation 125
Part III CEO Reactions to the Concept and the Book 141
Microsoft 143
Bharti Airtel--Empowering the Villages of India 145
Reuters Market Light and The Fortune at the Bottom of the Pyramid 147
Royal DSM 151
ING 153
GlaxoSmithKline 157
Unilever 159
Philips Electronics--Improving Health and Well-Being at the Base of the Pyramid 161
University of Maastricht 165
Acumen Fund 169
Part IV Case Studies and CEO Comments 171
Jaipur Rugs: Connecting Rural India to Global Markets 175
Casas Bahia: Retail for the Poor 207
CEMEX: Homes for the Poor 219
Hindustan Unilever: Lifebuoy Soap 249
Hindustan Unilever: Iodized Salt (Annapurna Salt) 261
Jaipur Foot: Prosthetics for the Poor 275
Aravind Eye Care: The Most Precious Gift 283
ICICI: Financial Services for the Poor 299
ITC e-Choupal: Technology for the Poor 321
Voxiva: Health Alerts for All 345
E+Co: Energy for Everyone 357
Biographies of the Researchers and Writers of the Success Case Studies from The Fortune at the Bottom of the Pyramid 373
Part V Video Clips (on CD)
Jaipur Rugs
Casas Bahia
CEMEX
Annapurna Salt
Hindustan Lever Limited
Jaipur Foot
Aravind Eye Care
ICICI Bank
ITC e-Choupal
EID Parry
Voxiva
E+Co/Tecnosol
Andhra Pradesh
Index 385
FREE

ONE MONTH ACCESS!
WITH PURCHASE
---
Get unlimited 30-day access to thousands of Books & Training Videos about technology, professional development and digital media If you continue your subscription after your 30-day trial, you can receive 30% off a monthly subscription to the Safari Library for up to 12 months.
Other Things You Might Like

eBook (Watermarked) $71.99
eBook (Watermarked) $117.59