Home > Store > Home & Office Computing > Entertainment/Gaming/Gadgets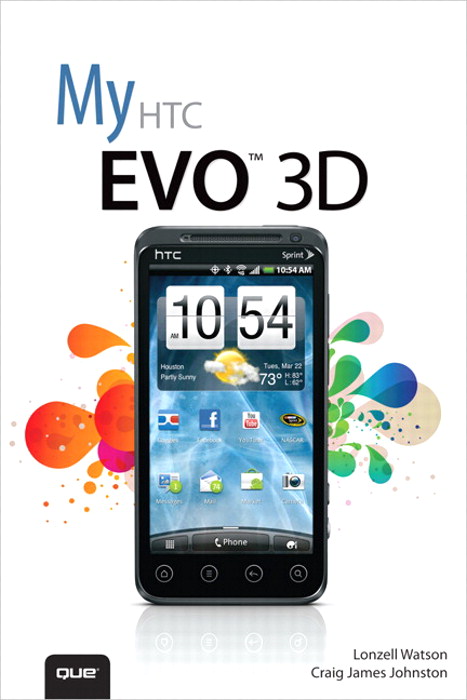 Share
|



Register your product to gain access to bonus material or receive a coupon.
My HTC EVO 3D
eBook (Watermarked)
Your Price: $15.99
List Price: $19.99
Includes EPUB, MOBI, and PDF

This eBook includes the following formats, accessible from your Account page after purchase:

EPUB The open industry format known for its reflowable content and usability on supported mobile devices.

MOBI The eBook format compatible with the Amazon Kindle and Amazon Kindle applications.

PDF The popular standard, used most often with the free Adobe® Reader® software.

This eBook requires no passwords or activation to read. We customize your eBook by discretely watermarking it with your name, making it uniquely yours.
Copyright 2012
Dimensions: 6" x 9"
Pages: 386
Edition: 1st
eBook (Watermarked)
ISBN-10: 0-13-289568-4
ISBN-13: 978-0-13-289568-2
Step-by-step instructions with callouts to HTC EVO™ 3D photos that show you exactly what to do
Help when you run into problems or limitations with your HTC EVO 3D
Tips and Notes to help you get the most from your HTC EVO 3D, the Android OS, and the 4G service
Full-color, step-by-step tasks walk you through getting and keeping your HTC EVO™ 3D working just the way you want.
Learn how to:
• Quickly get comfortable with EVO 3D, glasses-free 3D, and the Android OS
• Customize your EVO 3D's hardware and software
• Play music and videos, and sync media with your computer
• Capture stunning 3D and 2D photos and video
• Connect to Bluetooth, Wi-Fi, and secure VPNs
• Communicate, manage, and synchronize contacts and appointments
• Capture, store, view, and share photos with both EVO 3D cameras
• Set up and maximize Gmail, POP3, and IMAP email accounts
• Optimize your web browsing experience
• Configure the phone application and Google Voice
• Efficiently manage all your calls, contacts, and messages
• Video chat with EVO 3D's front-facing camera
• Find, choose, install, and work with new Android apps
• Squeeze out more hours of battery life
• Properly maintain and troubleshoot your EVO 3D
• Keep your HTC EVO 3D up-to-date and running smoothly
Table of Contents
1 Getting to Know Your EVO 3D 3
Your EVO 3D's External Features 3
Fundamentals of Android 7
The Unlock Screen 7
The Home Screen 8
Using Your EVO 3D's Touchscreen 11
Using Your EVO 3D's Keyboard 12
Swype Keyboard 16
Editing Text 17
Starting Applications and Application Groups 18
Menus 20
Installing Synchronization Software 21
Installing doubleTwist on Windows 21
Installing doubleTwist on Mac OSX 22
Creating a doubleTwist Account 22
2 Using the Phone and Google Voice 25
Getting to Know the Phone Application 26
Receiving a Call 28
Handling Missed Calls 28
Placing a Call 30
Dialing from a Contact Entry 30
Dialing Using Your Voice 31
Options While on a Call 32
Conference Calling 33
Configuring the Phone Application 33
Call Settings 34
Sound Settings 36
Google Voice 38
Setting Up Google Voice 38
Upgrading Google Voice 43
Playing Back and Managing Google Voicemails 45
Send SMS and Check Your Balance 46
Google Voice Settings 47
3 Managing Contacts 51
Exploring the Contacts Application 51
Adding Accounts 52
Navigating Your People List 58
Display Options 59
Adding and Managing Contacts 60
Adding Contacts Manually 62
Exploring Contact Details 63
Joining and Separating Contacts 65
Joining Contacts Manually 66
Separating Contacts 68
Organizing Your Contacts 68
Adding a Contact to Your Favorites 69
Adding a Contact to Your Home Screen 70
Sending Contact Information 71
Communicating with Contacts 72
Importing and Exporting Contacts 73
4 Audio and Video 77
Navigating the Music Application 77
Exploring the Music Application 79
Accessing More Actions 81
Working and Listening to Music 82
Managing Playlists 82
Creating a New Playlist 83
Adding Songs to an Existing Playlist 85
Changing the Order of Songs in a Playlist 86
Renaming or Deleting Playlists 87
Managing Video with the Gallery Application 88
Sharing Video Using MMS 91
Sharing Video Using Bluetooth 92
Sharing Video Using Email or Gmail 93
Sharing Video on YouTube 95
Deleting Videos 96
Editing Videos 97
Recording Videos with the Camera Application 98
Recording Video 98
Changing Video Settings 99
Watching TV and Movies 101
Sprint TV & Movies 101
Blockbuster On Demand Application 103
Finding Movies on Blockbuster and Changing Settings 110
Renting and Purchasing Movies on Blockbuster 111
YouTube 112
YouTube Main Screen 112
Playing a Video 113
Filtering Videos 115
Changing YouTube Settings 116
Amazon MP3 116
Setting Up the Amazon MP3 Application 117
Finding Music 119
Purchasing Music 120
Using doubleTwist to Synchronize Audio and Video 121
Running doubleTwist and Mounting Your EVO 3D 122
Synchronizing Music by Dragging Files 123
Synchronizing Existing Playlists 124
Creating Playlist 126
Copying Video 127
5 Connecting to Bluetooth,Wi-Fi, and VPNs 131
Connecting to Bluetooth Devices 131
Pairing with a New Bluetooth Device 132
Changing Bluetooth Options 134
Advanced Bluetooth Settings 136
Wi-Fi 137
Connecting to Wi-Fi 137
Wi-Fi Network Options 139
Advanced Wi-Fi Options 140
Cellular Network Settings 142
Changing Mobile Settings 143
Virtual Private Networks (VPN) 145
Adding a VPN 145
Connecting to a VPN 146
Sprint Hotspot 147
Starting Your Sprint Hotspot 147
6 Emailing 151
Gmail 151
Adding a Gmail Account 152
Composing Gmail Email 158
Reading Gmail Email 160
Gmail Settings 164
Setting Up the Mail Application 165
Adding a New Microsoft Exchange Account 166
Exchange Account Settings 168
Adding a New POP3 or IMAP Account 171
Working with the Mail Application 175
Using Combined or Separate Inboxes 175
Navigating the Main Screen 176
Composing Email 178
Reading Email 180
7 Browsing the Web 183
Navigating with the Browser 183
Managing Bookmarks 185
Using GPS Location 186
Managing Multiple Windows
Setting Page Options 189
Customizing Browser Settings 190
Downloading Files 194
Reviewing History and Most Viewed Sites 195
Most Visited 195
History 196
8 Text and Multimedia Messaging 199
The Messaging Application 199
Messaging Application Settings 202
Composing Messages 205
Attaching Files 208
Receiving Messages 209
Working with Messages 212
9 Date,Time, and Calendar 215
Setting the Date and Time 216
Navigating the Clock Application 217
Managing Alarms 218
Adding and Editing an Alarm 219
Viewing and Managing Weather 220
Modifying Weather Settings 221
The Calendar Application 222
Navigating the Calendar App 223
Adding a New Event or Appointment 224
Editing or Deleting an Event 226
Responding to Event Reminders 227
Calendar Settings 228
Responding to an Event Invitation 229
10 Capturing, Storing, and Viewing Photos 233
Using the Camera 234
Changing Photo Settings 236
Viewing and Managing Your Photos 238
Gallery 238
Album Menus 241
Managing and Sharing Photos in an Album 242
Editing Photos 243
Cropping Pictures 245
Printing Pictures 246
Synchronizing Photos with Your Computer 246
Connect as a Disk Drive 247
Moving Pictures (Mac OSX) 248
Moving Pictures (Windows) 249
Working with doubleTwist 251
Transfer Photos Using doubleTwist 251
Configure doubleTwist Photo Options (Mac OSX) 252
Configure doubleTwist Photo Options (Windows) 253
11 Enhancing Your EVO 3D with Apps 255
Configuring Google Checkout 255
Searching for Android Applications 257
Finding Great Apps 258
Downloading Paid and Free Applications 260
Deleting Applications 262
Deleting an Application Using Settings 262
Deleting an Application Using Market 264
Keeping Applications Up to Date 265
12 Customizing Your EVO 3D 269
Changing Your Wallpaper 269
Live Wallpaper 271
Wallpaper from Gallery Pictures 272
Using Scenes 273
Changing the Scene 274
Creating Your Own Scene 275
Using Skins 276
Changing the Lock Screen 278
Changing Your Keyboard 279
Swype Keyboard 281
Trace Keyboard 282
Adding Widgets to a Home Screen 283
Adding a Widget 283
Moving a Widget 285
Removing a Widget 286
Region and Language 287
Accessibility Settings 288
Search Settings 289
13 Maintaining and Troubleshooting Your EVO 3D 291
Updating Android 291
Battery Optimizing 293
Take Care of the Battery 293
Extending Battery Life 293
Turn Off Radios 294
Dim Screen Brightness 294
Turn Off Vibration Settings 296
Monitor Power Usage 297
Force Stop a Problematic App 298
Caring for the EVO 3D's Exterior 300
Getting Help with Your EVO 3D 301
Index 303
FREE

ONE MONTH ACCESS!
WITH PURCHASE
---
Get unlimited 30-day access to thousands of Books & Training Videos about technology, professional development and digital media If you continue your subscription after your 30-day trial, you can receive 30% off a monthly subscription to the Safari Library for up to 12 months.
Other Things You Might Like
Book $19.99
eBook (Watermarked) $15.99