Home > Store > Home & Office Computing > Microsoft Windows Vista & Home Server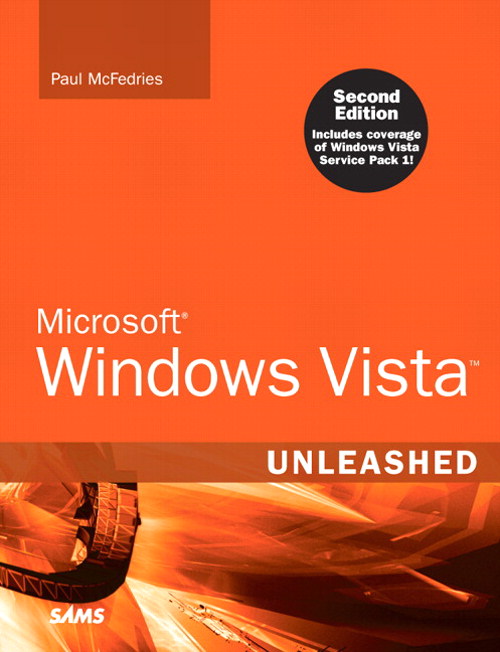 Share
|



Register your product to gain access to bonus material or receive a coupon.
Microsoft Windows Vista Unleashed, 2nd Edition
Book
This product currently is not for sale.
eBook (Adobe DRM)
Your Price: $31.99
List Price: $39.99

ℹ This eBook requires the free Adobe® Digital Editions software.

Before downloading this DRM-encrypted PDF, be sure to:

Install the free Adobe Digital Editions software on your machine. Adobe Digital Editions only works on Macintosh and Windows, and requires the Adobe Flash Player. Please see the official system requirements.
Authorize your copy of Adobe Digital Editions using your Adobe ID (select AdobeID as the eBook vendor). If you don't already have an Adobe ID, you can create one here.
Copyright 2008
Dimensions: 7x9-1/8
Pages: 840
Edition: 2nd
Book
ISBN-10: 0-672-33013-X
ISBN-13: 978-0-672-33013-1
eBook (Adobe DRM)
ISBN-10: 0-7686-8041-7
ISBN-13: 978-0-7686-8041-6
Microsoft® Windows Vista™ Unleashed, Second Edition
Paul McFedries
Second Edition
Includes coverage of Windows Vista Service Pack 1!
Microsoft Windows Vista Unleashed, Second Edition, is a book for people, like you, who don't consider themselves to be "average users." It's a book for anyone who finds that doing things the official way is slower, less efficient, and less powerful because Windows Vista was designed from the ground up to avoid confusing novice users. The result is default settings that restrict flexibility, interminable wizards that turn 2-step tasks into 12-step sagas, and the hiding of powerful and useful programs behind layers of menus and dialog boxes. To unleash the potential of Windows Vista, you need a different approach that blows away Vista's novice features and scorns the standard way of doing things.
This book goes beyond the standard-issue techniques sanctioned by Microsoft and parroted in other Windows Vista books. Instead, this book offers shortcuts for boosting your productivity, customizations for making Windows Vista work the way you do, workarounds for known Windows Vista problems, and warnings for avoiding Windows Vista pitfalls. Along the way, you'll learn about all kinds of insider details, undocumented features, powerful tools, and background facts that help put everything into perspective.
Paul McFedries is the president of Logophilia Limited, a technical writing company. He has been working with computers for more than 30 years and has been using Microsoft Windows since version 1. Paul has written more than 50 books that have sold more than 3 million copies worldwide.
Learn what's new in Windows Vista Service Pack 1
Customize Windows Vista startup
Troubleshoot software and hardware problems
Tune Windows Vista's performance
Automate Windows Vista with powerful and flexible scripts
Implement Internet security and privacy features
Configure and administer a small network
Get the most out of Control Panel, group policies, the Registry, Device Manager, and other powerful tools
Set up a complete maintenance program to keep Windows Vista running smoothly
Discover a complete list of Windows Vista shortcut keys, a detailed look at the Command Prompt, and a batch file primer
Master the new desktop search engine and learn how to group, stack, and filter files
Understand and work with Windows Vista's User Account Control security feature
Get the most out of your Tablet PC
Take advantage of new Internet features such as RSS feeds, multiple home pages, and tabbed browsing
Category: Microsoft Operating Systems
Covers: Microsoft Windows Vista
User Level: Intermediate—Advanced
Related Article
Online Sample Chapter
Programming the Windows Script Host
Sample Pages
Table of Contents
Part I Unleashing Day-to-Day Windows Vista
1 An Overview of Windows Vista
2 Customizing and Troubleshooting the Windows Vista Startup
3 Exploring Expert File and Folder Techniques
4 Mastering File Types
5 Installing and Running Applications
6 Getting the Most Out of User Accounts
7 Working with Digital Media
8 Vista's Tools for Business: Contacts, Calendar, and Faxing
9 Mobile Computing in Windows Vista
Part II Unleashing Essential Windows Vista Power Tools
10 Using Control Panel and Group Policies
11 Getting to Know the Windows Vista Registry
12 Programming the Windows Script Host
Part III Unleashing Windows Vista Customization and Optimization
13 Customizing the Windows Vista Interface
14 Tuning Windows Vista's Performance
15 Maintaining Your Windows Vista System 1
16 Troubleshooting and Recovering from Problems
17 Getting the Most Out of Device Manager
Part IV Unleashing Windows Vista for the Internet
18 Exploring the Web with Internet Explorer
19 Communicating with Windows Mail
20 Participating in Internet Newsgroups
21 Implementing Windows Vista's Internet Security and Privacy Features
Part V Unleashing Windows Vista Networking
22 Setting Up a Small Network
23 Accessing and Using Your Network
24 Making Remote Network Connections
Part VI Appendixes
A Windows Vista Keyboard Shortcuts
B Using the Windows Vista Command Prompt
C Automating Windows Vista with Batch Files
FREE

ONE MONTH ACCESS!
WITH PURCHASE
---
Get unlimited 30-day access to thousands of Books & Training Videos about technology, professional development and digital media If you continue your subscription after your 30-day trial, you can receive 30% off a monthly subscription to the Safari Library for up to 12 months.
Other Things You Might Like
Book $39.99
Book $17.59