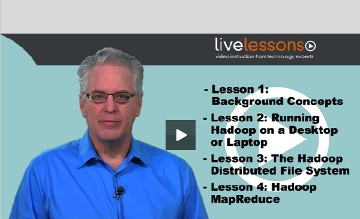 This Hadoop Fundamentals LiveLessons tutorial demonstrates the core components of Hadoop including Hadoop Distriuted File Systems (HDFS) and MapReduce. In addition, the tutorial demonstrates how to use Hadoop at several levels including the native Java interface, C++ pipes, and the universal streaming program interface. Learn more.
Downloadable video accessible from your Account page after purchase. Requires the free QuickTime Player software. Videos can be viewed on: Windows 8, Windows XP, Vista, 7, and all versions of Macintosh OS X including the iPad, and other platforms that support the industry standard h.264 video codec.
Purchase Reward: One Month Free Subscription — By completing any purchase on InformIT, you become eligible for an unlimited access one-month subscription to Safari Books Online.
Promotions

Save $10 on featured Software Engineering eBooks.
Learn how to program like an expert with 5 free training videos.
Save 35% on Windows App Development Guides and Tutorials.

The Essence of Software Engineering



EPUB, MOBI, and PDF
C# 2010 Fundamentals I, II, and III LiveLessons



Downloadable Video
Articles and Chapters

By Paul McFedries
May 22, 2013
By Ed Tittel
May 22, 2013
By Paul McFedries
May 21, 2013
By Laura Madeira
May 20, 2013
By Matthew Moran
May 17, 2013