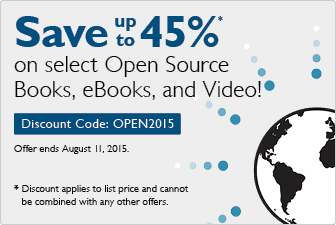 Ubuntu Server Essentials LiveLessons
Ubuntu Server Essentials is a unique video product that helps administrators get started with the Ubuntu Linux Server edition. It walks the audience through the first steps that are needed to get a fully operational server environment, focusing on setting up a LAMP Server on Ubuntu. This video course details real-world tasks and provides multimedia tutorials that you can apply to real world scenarios.

The Robert C. Martin Clean Code Collection
The Robert C. Martin Clean Code Collection consists of two bestselling eBooks:
Clean Code: A Handbook of Agile Software Craftmanship
The Clean Coder: A Code of Conduct for Professional Programmers
In Clean Code, legendary software expert Robert C. Martin has teamed up with his colleagues from Object Mentor to distill their best agile practice of cleaning code "on the fly" into a book that will instill within you the values of a software craftsman and make you a better programmer--but only if you work at it. In The Clean Coder, Martin introduces the disciplines, techniques, tools, and practices of true software craftsmanship. This book is packed with practical advice--about everything from estimating and coding to refactoring and testing.


eBook Deal of the Day
Take advantage of big savings with the new eBook Deal of the Day, and get a new eBook every day. Check out today's featured title and subscribe to the RSS feed at informit.com/deals.
Just Published
Coming Soon