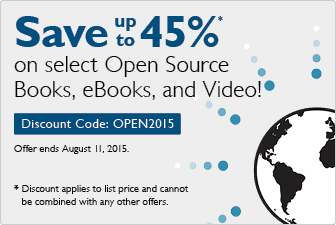 Reactive Messaging Patterns with the Actor Model
Enterprise software development has been much more difficult and failure-prone than it needs to be. Now, veteran software engineer and author Vaughn Vernon offers an easier and more rewarding method to succeeding with Actor model. Reactive Messaging Patterns with the Actor Model shows how the reactive enterprise approach, Actor model, Scala, and Akka can help you overcome previous limits of performance and scalability, and skillfully address even the most challenging non-functional requirements.


Pre-order the Book + eBook Bundle
Create Breakthrough Apple Watch Apps with the WatchKit Framework
With its Apple Watch and WatchKit framework, Apple is challenging developers to build exciting and innovative apps for Apple Watch. iOS developers who master Apple Watch programming now will have the same huge "early mover" advantage that early iPhone developers enjoyed. Learning WatchKit Programming is a complete, hands-on tutorial for all iOS developers who are ready to design and build tomorrow's hottest new wearable apps.


eBook Deal of the Day
Take advantage of big savings with the new eBook Deal of the Day, and get a new eBook every day. Check out today's featured title and subscribe to the RSS feed at informit.com/deals.
Just Published
Coming Soon