Video Sale Ends Today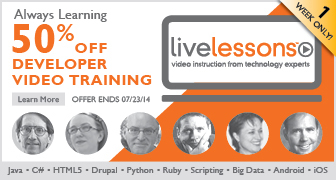 Learn Game Design, Prototyping, and Programming with Today's Leading Tools: Unity™ and C#
Introduction to Game Design, Prototyping, and Development is the first time that all three of these disciplines have been brought together into a single book. It is a distillation of everything that Gibson has learned teaching hundreds of game designers and developers in his years at the #1 university games program in North America. It fully integrates the disciplines of game design and computer programming and helps you master the crucial practice of iterative prototyping using Unity. As the top game engine for cross-platform game development, Unity allows you to write a game once and deliver it to everything from Windows, OS X, and Linux applications to webpages and all of the most popular mobile platforms.

Apache Cordova API Cookbook
Using Apache Cordova, mobile developers can write cross-platform mobile apps using standard HTML5, JavaScript, and CSS, and then deploy those apps to every leading mobile platform with little or no re-coding. Apache Cordova API Cookbook provides experienced mobile developers with details about how each Cordova API works and how to use the APIs in their own applications. Coverage is included for all Cordova/PhoneGap 3 APIs.

A Thorough Introduction to the Agile Framework and Methodologies That Are Used Worldwide
Introduction to Agile Methods is the place to start for students and professionals who want to understand Agile and become conversant with Agile values, principles, framework, and processes. Authors Sondra Ashmore and Kristin Runyan use academic research and their own experiences with numerous Agile implementations to present a clear description of the essential concepts. They address all key roles and the entire development life cycle, including common roadblocks that must be overcome to be successful.


eBook Deal of the Day
Take advantage of big savings with the new eBook Deal of the Day, and get a new eBook every day. Check out today's featured title and subscribe to the RSS feed at informit.com/deals.
---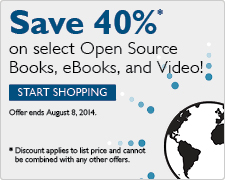 ---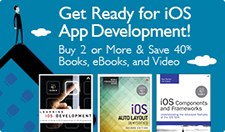 ---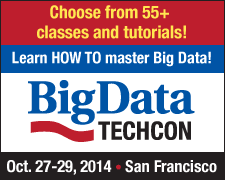 Just Published
Coming Soon
Joomla!® 3 Explained: Your Step-by-Step Guide, 2nd Edition
By Stephen Burge.
Jul 31, 2014
$31.99 (Save 20%)*

Foundations of Software and System Performance Engineering: Process, Performance Modeling, Requirements, Testing, Scalability, and Practice
By André B. Bondi.
Aug 15, 2014
$47.99 (Save 20%)*

Mastering 3D Printing LiveLessons (Video Training), Downloadable
By Dave Seff.
Aug 20, 2014
$103.99 (Save 20%)*