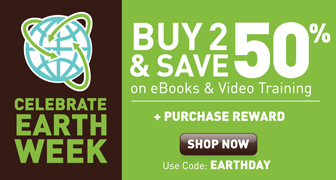 Design User-Friendly, Intuitive Smartphone and Tablet Apps for Any Platform
Mobile apps should feel natural and intuitive, and users should understand them quickly and easily. This means that effective interaction and interface design is crucial. However, few mobile app developers (or even designers) have had adequate training in these areas. Essential Mobile Interaction Design fills this gap, bringing together proven principles and techniques you can use in your next app—for any platform, target device, or user.

Now Available in eBook Format
Art of Computer Programming, Volume 1 begins with basic programming concepts and techniques, then focuses more particularly on information structures–the representation of information inside a computer, the structural relationships between data elements and how to deal with them efficiently. Elementary applications are given to simulation, numerical methods, symbolic computing, software and system design. Dozens of simple and important algorithms and techniques have been added to those of the previous edition. The section on mathematical preliminaries has been extensively revised to match present trends in research.

OpenGL ES 3.0 Programming Guide, 2nd Edition
In the OpenGL® ES™ 3.0 Programming Guide, Second Edition, the authors cover the entire API and Shading Language. They carefully introduce OpenGL ES 3.0 features such as shadow mapping, instancing, multiple render targets, uniform buffer objects, texture compression, program binaries, and transform feedback.


eBook Deal of the Day
Take advantage of big savings with the new eBook Deal of the Day, and get a new eBook every day. Check out today's featured title and subscribe to the RSS feed at informit.com/deals.
---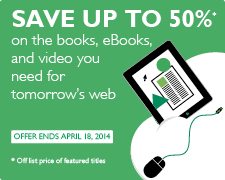 ---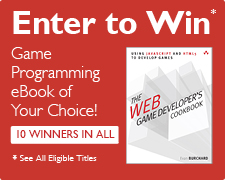 Just Published
Essential Mobile Interaction Design: Perfecting Interface Design in Mobile Apps
By Cameron Banga, Josh Weinhold.
Mar 27, 2014
$31.99 (Save 20%)*

Apache Hadoop YARN: Moving beyond MapReduce and Batch Processing with Apache Hadoop 2
By Arun C. Murthy, Vinod Kumar Vavilapalli, Doug Eadline, Joseph Niemiec, Jeff Markham.
Mar 19, 2014
$31.99 (Save 20%)*

Core iOS Developer's Cookbook, The, 5th Edition
By Erica Sadun, Rich Wardwell.
Mar 9, 2014
$35.99 (Save 20%)*
Coming Soon