I found a ditty in my email this week from PC Magazine that Bill Gates is "superenthused" about the impending release of Windows 7 in early 2010.

With my own fabulous experience with Vista, I can't wait to do the following:
Install a new operating system to beta test it for Microsoft with inadequate, incomprehensible or totally incomplete documentation or explanations of its "new features"
Install a set of completely new programs and drivers for my peripherals because the ones I am used to no longer work
Buy new peripherals and programs that may actually work with the new OS
Struggle through re-setting my network so that I can communicate with my other PCs
Struggle through new "security" features that impede my productivity with constant interruptions and pop ups
Find myself unable to do simple tasks like burn DVDs or encode videos without re-learning the entire process and troubleshooting and problem solving.
Like most end users I found Vista such a tremendous time saver.
Here is the dialog box for simply burning a DVD that is one half capacity - look -- Vista predicts completion in less than a month!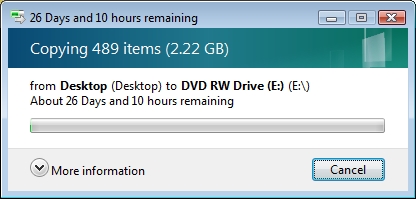 With Vista I was in control -- I had the privilege of supervising the actual transfer of data between two folders by clicking on a series of dialog boxes that kept asking whether I "really really wanted to move or overwrite this file."

I particularly loved the security features in Vista that kept me from downloading files unless I right-clicked on the top of the IE window. Its brilliant cousin OneCare is a real winner too - it actually wanted to block itself from running at all at one point, and kept mapping sections of downloaded files that kept me from completing downloads after spending hours waiting for them to end.

According to PC Magazine Gates said that Windows 7 would "would help revolutionize mobile phones and run the desk of the future, which would have a touch surface display allowing users to call up items using their hands."

Here's a novel concept - how about finalizing and perfecting a stable OS (Windows XP) so that end users could actually experience productivity and performance increases by using their old keyboard and mouse (without loading new drivers)?

Oh wait, I know, it would be so much more fun to try to troubleshoot drivers for new touch screen displays so that I can "drag and drop" stuff into folders using my fingers on a super expensive (about which I am super enthusiastic) touch screen.

In the meantime my Vista installation often doesn't let me move folders using my regular mouse. I can't connect to other PCs without hours trying to undestand the whizbang new "Network and Sharing Center", while I already figured out the same stuff for XP years ago.

There are people who believe that the Mayan calendar predicts the "end of time" sometime in December 2012. Somehow I suspect it has something to do with the potential widespread adoption of a new Windows OS a couple of years before that.