Are you one of the thousands of IT professionals being asked to make Scrum succeed in their organizations? Do you know where to start?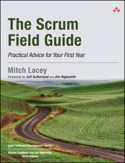 While it's necessary to learn how to gain quick wins that build support, you'll also need to use the flexibility of Scrum to maximize value creation across the entire process. The Scrum Field Guide: Practical Advice for Your First Year can give you skills and confidence to adopt Scrum more rapidly, more successfully, and with far less pain and fear.
We've all heard the common myth, Agile means no documentation. "While other agile fallacies exist, this is a big one, and it could not be farther from the truth," says author Mitch Lacey. "Good agile teams are disciplined about their documentation but are also deliberate about how much they do and when."

Answer this week's #TuesdayTrivia question for a chance to add an eBook copy of The Scrum Field Guide: Practical Advice for Your First Year to your digital bookshelf and master the challenges associated with early-stage Scrum adoption– 3 winners in all!
A _______ is the basic unit of development in Scrum. Click for hint.
Rules: Answer question by leaving a comment below (one per person, all duplicates will be discarded) by 12:01 am EST on August 25, 2012. Three winners will be randomly selected from all correct answers and notified by a comment from the InformIT team on their post.
Want to learn more?
> READ: The Myth of No Documentation in Scrum Projects (Online Sample Chapter)
> VISIT: Agile Resource Center