Ruby's widely admired ease of use has a downside: Too many Ruby and Rails applications have been created without concern for their long-term maintenance or evolution.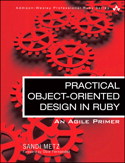 In new release
Practical Object-Oriented Design in Ruby: An Agile Primer
, readers learn how to build new applications that can survive success and repair existing applications that have become impossible to change.
"Object-oriented design (OOD) requires that you shift from thinking of the world as a collection of predefined procedures to modeling the world as a series of messages that pass between objects," says
author Sandi Metz
. Novice Ruby programmers will find specific rules to live by; intermediate Ruby programmers will find valuable principles they can flexibly interpret and apply; and advanced Ruby programmers will find a common language they can use to lead development and guide their colleagues.
Answer this week's #TuesdayTrivia question for a chance to add an eBook copy of Practical Object-Oriented Design in Ruby: An Agile Primer to your digital bookshelf – 3 winners in all!
Ruby was first designed and developed in the mid-1990s by Yukihiro "Matz" Matsumoto in what country? See Wikipedia for hint.
Rules: Answer question by leaving a comment below (one per person, all duplicates will be discarded) by 12:01 am EST on September 22, 2012. Three winners will be randomly selected from all correct answers and notified by a comment from the InformIT team on their post.
Want to learn more?
>Sample Chapter: Managing Dependencies

>Video Interview: RailsConf2012

Hashrocket's In the Spotlight with Sandi Metz from Hashrocket on Vimeo.
Are you following @InformIT on Twitter? Be the first to hear about new #TuesdayTrivia contests and other great offers.