As iOS apps become increasingly complex and business-critical, iOS developers must ensure consistently superior code quality. This means adopting best practices for creating and testing iOS apps.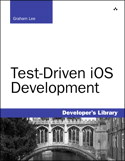 Test-Driven Development (TDD) is one of the most powerful of these best practices. New release Test-Driven iOS Development from the Addison-Wesley Professional Developer's Library Series is the first book 100% focused on helping you successfully implement TDD and unit testing in an iOS environment.
"You will find that as you get more comfortable with test-driven development—writing the tests and the code together—you get faster at writing code because thinking about the code's design and the conditions it will need to cope with become second nature," says author Graham Lee. "Writing test-driven code, including its tests, takes the same time that writing the code alone used to take, but with the advantage that you are more confident about its behavior."
Answer this week's #TuesdayTrivia question for a chance to add an eBook copy of Test-Driven iOS Development to your digital bookshelf – 3 winners in all!
What year was the first Apple Worldwide Developer Conference (WWDC) in Monterey, California? Click for hint.
Rules: Answer question by leaving a comment below (one per person, all duplicates will be discarded) by 12:01 am EST on June 23, 2012. Three winners will be randomly selected from all correct answers and notified by a comment from the InformIT team on their post.
Want to learn more?
> READ: About Software Testing and Unit Testing (Online Sample Chapter)
> VISIT: Software Testing Resource Center
Tell your friends! We'll be announcing future #TuesdayTrivia questions via @informit on Twitter. Stay tuned for more great prizes.