Countless programmers have learned C++ from previous editions of C++ Primer. During that time, the language has matured and shifted focus from looking at machine efficiency to programmer efficiency.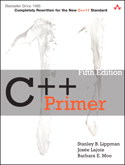 C++ Primer, 5th Edition, introduces the C++ standard library from the outset, drawing on its common functions and facilities to help you write useful programs without first having to master every language detail. Fully updated and recast for the newly released C++11 standard, this authoritative and comprehensive introduction will help you to learn the language fast, and to use it in modern, highly effective ways.
Answer this week's #TuesdayTrivia question for a chance to add an eBook copy of C++ Primer, 5th Edition, to your digital bookshelf – 3 winners in all!
Originally named C with Classes, in what year was the language renamed C++? See Wikipedia for hint.
Rules: Answer question by leaving a comment below (one per person, all duplicates will be discarded) by 12:01 am EST on October 20, 2012. Three winners will be randomly selected from all correct answers and notified by a comment from the InformIT team on their post.
Want to learn more?
>Online Sample Chapter: Working with Dynamic Memory in C++
>Article: Move Semantics in C++11, Part 1: A New Way of Thinking About Objects
>C++ Resource Center: Special discounts, articles and more