If you can do it in JavaScript, you can do it better in CoffeeScript. And, since CoffeeScript "compiles down" to JavaScript, your code will fit neatly into virtually any web environment.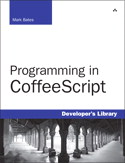 In Programming in CoffeeScript, author Mark Bates shows web developers why CoffeeScript is so useful and how it avoids the problems that often make JavaScript code buggy and unmanageable. He guides you through every feature and technique you need to write quality code and how to take advantage of CoffeeScript's increasingly robust toolset.
Answer this week's #TuesdayTrivia question for a chance to add an eBook copy of Programming in CoffeeScript to your digital bookshelf – 3 winners in all!
What is the latest version of CoffeeScript available? See http://coffeescript.org/ for hint.
Rules: Answer question by leaving a comment below (one per person, all duplicates will be discarded) by 12:01 am EST on September 8, 2012. Three winners will be randomly selected from all correct answers and notified by a comment from the InformIT team on their post.

Want to learn more?
> Sample Chapter: How to Use Functions and Arguments in CoffeeScript
> Interview: "The Best Programming Advice I Ever Got" with Mark Bates
> Article: Testing Your JavaScript/CoffeeScript, Part 1 of 2: Setting Up a Test Framework in Ruby on Rails
Are you following @InformIT on Twitter? Be the first to hear about new #TuesdayTrivia contests and other great offers.