In this series, I'll be talking about the top job skills from Indeed.com and how InformIT can help strengthen your resume and portfolio for the most requested job requirements.
Well folks, this is it! The final entry in the Top Jobs blog series. I'll be going over all of the options we have here at InformIT to help you develop skills with social media. We have loads of resources, including books for marketers, developers and for those of you who just want to know what the fuss is all about.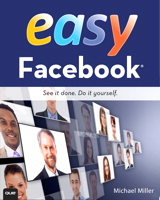 To start with, we have a book by Michael Miller that can quickly get you up to speed on what Facebook is all about. Easy Facebook is a great gateway into the most popular social network. Learn how to join and make the most of your experience, including finding friends and adding photos. There are also helpful hints with regards to privacy settings. Michael has written quite a few articles, including one about sharing photos, one about understanding the concept of "Facebook friends," and also a sample chapter about how to read the Facebook news feed. You can read Easy Facebook on Safari Books Online if you have an account there.
For those of you who are already experienced with Facebook, you might be interested in the Introduction to Facebook Marketing Campaigns video series. These are DRM-free video downloads that will enable you to make the most out of Facebook's marketing potential. You can learn how to make your business more appealing, get more fans, and connect with the most devoted of customers. If that sounds appealing, you might also be interested in his book, The Like Economy: How Businesses Make Money With Facebook, which details more about how to increase profits through Facebook. You can read a sample chapter if you like, or an an article about establishing your corporate presence.
To take advantage of more than just Facebook, you can take a look at Outsmarting Social Media: Profiting in the Age of Friendship Marketing by Evan Bailyn. In this book, you'll learn about where social media is headed, how to properly implement Groupon-style "daily deals," and much more. You can read a sample chapter if you wish, or take a look at the book on Safari Books Online if you have or want an account there.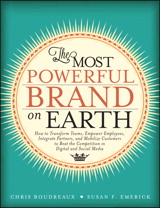 In order to make the most of social media, you have to build your brand. Chris Boudreaux and Susan Emerick can help you do that in their book, Most Powerful Brand On Earth, The: How to Transform Teams, Empower Employees, Integrate Partners, and Mobilize Customers to Beat the Competition in Digital and Social Media. You'll learn how to approach online influencers, how to partner with those already in social media, and how to measure your social empowerment program. The book comes out in just a few short weeks, so be sure to pre-order it! Of course, you can also read it on Safari Books Online if you want to.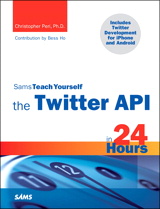 I know that those of you who are less on the business or marketing side are asking, "Ryan, where are the programming books!?" To reward your patience, here's Sams Teach Yourself the Twitter API in 24 Hours. Christopher Peri and Bess Ho take you through 24 sessions where you will learn how to build new social applications with the Twitter API. From the basics to more advanced techniques, such as including geotagging and streaming, this book has it all! Read a sample chapter about key issues when developing a Twitter app if you want to get a feel for the book, or read it on Safari Books Online.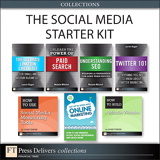 And finally, we have a great collection of seven(!?) books that we call The Social Media Starter Kit. This collection includes "Get Up to Speed with Online Marketing," "Ultimate LinkedIn Checklist For Small and Medium Businesses," "How to Build a Mobile Website," "Twitter 101," "How to Use Social Media Monitoring Tools," "Unleash the Power of Paid Search," and "Understanding SEO." This collection is a no brainer for anyone out there who wants to get started with social media in their business.
Alright guys, I'm not one for teary farewells, so this is it. I hope that you found something during these past few weeks that tickled your fancy. As always, I recommend you go out there and learn something new!