In this series, I'll be talking about the top job skills from Indeed.com and how InformIT can help strengthen your resume and portfolio for the most requested job requirements.
Number five atop Indeed.com's list of job trends is the nebulous term, "mobile app." Obviously, this includes iOS, Android, Windows Phones and more. I've compiled a list of products here that can really get you started if you're interested in mobile phone applications, whether you're a developer, marketer, or an IT business owner.
Why don't we start off with some strategy? In Dirk Nicol's Mobile Strategy: How Your Company Can Win by Embracing Mobile Technologies, you can learn how to take advantage of the "app store" distribution model, discover exciting new opportunities to derive value from mobile technology, and begin to understand the implications and challenges of the mobile market. There's an online sample chapter, if you'd like to check it out. There's a video here if you'd like to learn more about the author.
For you developers out there, you might want to take a look at Sams Teach Yourself jQuery Mobile in 24 Hours by Phillip Dutson. Even if you have no experience with jQuery Mobile, Phillip will shepherd your through 24 lessons that will help you create and customize your mobile websites or applications. Each lessons builds on the previous one, so you'll be an expert in no time! You can read a sample chapter if you wish, or learn how to use jQuery Mobile with QR codes in a free article by the same author.
As some of you know, I have already written blog posts about Android and iOS, so you can look those up for some suggestions if you want specific stuff. But for those of you who want cross-platform application help, I can refer you to John Wargo's PhoneGap Essentials: Building Cross-Platform Mobile Apps, which thoroughly discusses PhoneGap, Adobe's open source framework for mobile apps using HTML5, JavaScript and CSS. John covers a variety of topics, including the issues that arise in cross-platform development, the anatomy of a PhoneGap application, and also how to take advantage of mobile features, like cameras, compasses, accelerometers, and more. As usual, there's a sample chapter for you to peruse, if you want to get an idea of what PhoneGap development is like.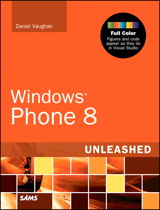 At this point, some of you may be feeling that I've neglected a certain portion of the audience. That's right, I'm talking about you Windows Phone users! For you guys, I've got Daniel Vaughan's Windows Phone 8 Unleashed. The definitive guide to Windows Phone 8, this book will help you get started with Windows Phone XAML development in Visual Studio, make the most of the application bar and other interface elements, and even incorporate the unique features of Windows Phone, such as speech-driven experiences and powerful local database support. A sample chapter about the fundamental concepts of Windows Phone development can be found here. If you are a member of Safari Books Online, you can read the full book at your leisure.
For those of you in marketing, here's a two-fer! Jeffrey Hughes has written both Android Apps Marketing: Secrets to Selling Your Android App and iPhone and iPad Apps Marketing: Secrets to Selling Your iPhone and iPad Apps. With the huge number of apps available in app stores, it's hard enough to stand out. But with these two books, you'll learn how to set a feasible price, identify your app's value, and build an audience. If you want a chance to see what it's all about, there are sample chapters available for Android and iOS each. Jeffrey also has a podcast you can download here.
That's all I've got for mobile apps! Next week, I'll be skipping down the list a ways, and focus on what InformIT has to offer in the realm of jQuery. Now go out there and learn something new!