In this series, I'll be talking about the top job skills from Indeed.com and how InformIT can help strengthen your resume and portfolio for the most requested job requirements.
Number four atop Indeed.com's list of job trends is Android, Google's own Linux-based operating system. It's a good thing that we've got plenty of talented authors on hand who have some useful books, videos and articles for your consumption.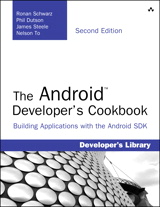 The Android Developer's Cookbook, 2nd Edition is a fantastic resource for those of you who are looking to learn how to build an app in Android or want to get better at it. Up-to-date, relevant, and comprehensive, this book is perfect for learning best practices for solving common issues and avoiding problems during development. You can read a sample chapter from the first edition if you'd like to get a feel for it, or read an article about creating apps that are good fits for tablets, which is written by James Steele, one of the authors. If you're focused on tablets, it would also be good to check out B. M. Harwani's The Android Tablet Developer's Cookbook.
Do you already have some programming experience? Maybe Android Programming: The Big Nerd Ranch Guide would be a good fit. Written by Bill Phillips and Brian Hardy, this book is a great introduction to the intricacies of Android development. It uses hands-on techniques and focuses on the practical applications with clear, easy-to-understand explanations. You can read a sample chapter about the Android activity lifecycle in order to get acquainted with the book's style, or you can read the whole book on Safari Books Online if you have a subscription (or want one).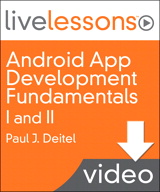 For all of you visual learners out there, we have a video series that might pique your interest. Paul J. Deitel's Android App Development Fundamentals LiveLessons is a series of over 20 hours of material that provides you with app-driven Android programming techniques in the context of sixteen complete, working Android apps. There are eighteen lessons in total, and you can buy them one at a time or in bulk. Visit the product page if you'd like to see an example in motion.
Now I know that some of you may want to learn more about design or user-interface. With Ian G. Clifton's Android User Interface Design: Turning Ideas and Sketches into Beautifully Designed Apps you can build apps that look great and provide great service to your customers. In the overcrowded Android marketplace, you'll definitely want to make your app stand out. In order to see what the book has to offer, why don't you check out a sample chapter? If you're a member of Safari Books Online, you can check out the book here.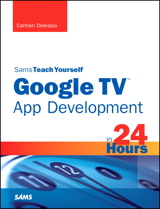 Lastly, I'd be remiss if I didn't mention Carmen Delessio's excellent book, which teaches you how to make a Google TV app in less than 24 hours: Sams Teach Yourself Google TV App Development in 24 Hours This specialized text goes in depth about how to develop apps for TV watchers, how to integrate HTML5 and jQuery into your apps, and much more. A sample chapter might help you make up your mind about the book; you could also read an article by Carmen that will explain why right now is the time to develop apps for Google TV. Alternatively, if you are a member of Safari Books Online, you can just read it here.
That's all I've got for right now. But stay tuned; next week, I'll tackle the broader category of "mobile apps," as per Indeed.com's list, which will include more Android, some iOS, and a smattering of other content. I hope you all have a great week and get the chance to learn something new!