With today's "connected life" running 24/7, we recognize it's hard to keep up with all your favorite websites and tech resources. The IT List is here to help you cut through the noise. Check back each Friday for a quick digest of articles, resources, events, promotions, and other goodies worth a first or second glance on InformIT.

The IT List: What You Missed This Week on InformIT [9/27/13]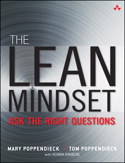 1. Hot off the Press: What company doesn't want energized workers, delighted customers, genuine efficiency, and breakthrough innovation? The Lean Mindset , from industry experts and celebrated authors Mary & Tom Poppendieck, shows how lean companies really work–and how a lean mindset is the key to creating stunning products and delivering amazing services. Add the Book + eBook Bundle to your library with best value purchase option.
2. Rock Stars Wanted: Professor and software developer Matt Weisfeld talks about the similar traits shared by programmers and musicians and offers suggestions on what you need to do to become a programming rock star.

3. Look Inside: This sample chapter from Object-Oriented Computation in C++ and Java: A Practical Guide to Design Patterns for Object-Oriented Computing covers the choices we face among language facilities that have duplicate or overlapping functionality, the background of various traditions in C++ and Java programming, and established principles of good programming practice as they apply to building and using object-oriented classes.
4. Tune In: Everyone knows the major names in streaming video: iTunes, Netflix, Amazon.com, Hulu, YouTube. Those services offer lots of great movies and TV shows from across genres and across the world. But, if you're looking for niche content (like anime, horror, cartoons, humor, educational programs, and more) they're not always your best option. Sam Costello introduces 11 alternative streaming sites.