With today's "connected life" running 24/7, we recognize it's hard to keep up with all your favorite websites and tech resources. The IT List is here to help you cut through the noise. Check back each Friday for a quick digest of articles, resources, events, promotions, and other goodies worth a first or second glance on InformIT.

The IT List: What You Missed This Week on InformIT [8/23/13]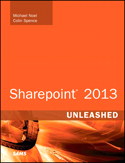 1. Read It First: The eBook edition of SharePoint 2013 Unleashed, by Michael Noel and Colin Spence, is ready for your digital library! Print books won't hit shelves until mid-September, so grab the EPUB/PDF/MOBI edition today and get a leg-up on your learning (or competition). For a limited time, save 35% off the list price with discount code SHAREPOINT35 during checkout. SharePoint 2013 Unleashed is the most complete, practical resource for all administrators, managers, architects, users, and developers to make the most of Microsoft's powerful new SharePoint 2013 platform. What are you waiting for?
2. Hey Newbie: Check out these 10 Rookie Mistakes Network Admins Make… and make sure you don't! For industry vets, would you add anything to the list?
3. Stay Agile: Enter for the chance to win a copy of Agile Transformation LiveLessons (Video Training) – 4+ hours of video instruction with Scrum Master Jason Little. Visit the Agile Development Resource Center to register and read featured sample chapters and articles from your favorite industry practitioners.
4. Behind the Scenes: Martin Fowler, author of favorites like NoSQL Distilled and Patterns of Application Architecture, talks about Thoughtworks, a software development company with a focus on sustainability and economic and social justice. This Q&A covers how he got started, why he loves the company culture, advice for new software developers and more.

5. Women in Tech: Lisa Crispin, author of Agile Testing: A Practical Guide for Testers and Agile Teams, discusses starting her programming career with no experience, how the role of testing has evolved over her 30+ years in the industry, and how software teams are like donkeys. Read the Q&A.
Have a great weekend. See you next Friday!