Home > Blogs > The IT List: What You Missed This Week on InformIT [7/12/2013]
The IT List: What You Missed This Week on InformIT [7/12/2013]
With today's "connected life" running 24/7, we recognize it's hard to keep up with all your favorite websites and tech resources.
The IT List
is here to help you cut through the noise. Check back each Friday for a quick digest of articles, resources, promotions, and other goodies worth a first
or
second glance on InformIT.
The IT List: What Your Missed This Week on InformIT [7/12/2013]

Pack Your Bookshelves: Buy 2, Save 40% on all iOS and Mac Programming titles when you apply discount code LEARNMAC40 during checkout. Visit our iOS Resource Center to choose from perennial favorites like The Advanced iOS 6 Developer's Cookbook (4th Edition) and Programming in Objective-C (5th Edition), new release Learning iOS Design: A Hands-On Guide for Programmers and Designers, and more.

Career Advice: New post from The Laid Off IT Guy shares the value of LinkedIn for professional networking, as well as using a new site feature called endorsements to strengthen your profile during the job search.


Kids and Tech Q&A: Tamara R. talks to her daughter, Devyn B., an 8 year-old girl born and raised in the Silicon Valley, about her exposure to technology

-- including learning that a server rack may look like something for a hot lunch, but involves much more than sandwiches!

Hot off the Press:

The

WebGL Programming Guide

is the newest text in the OpenGL Technical Library, Addison-Wesley's definitive collection of programming guides and reference manuals for OpenGL and its related technologies. Learn how to get started quickly with interactive WebGL 3D programming, even if you have no prior knowledge of HTML5, JavaScript, 3D graphics, mathematics, or OpenGL.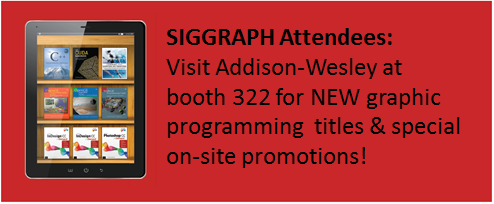 Have a great weekend. See you next Friday!

Become an InformIT Member
Take advantage of special member promotions, everyday discounts, quick access to saved content, and more! Join Today.
Other Things You Might Like

CompTIA A+ Practice Questions Exam Cram Core 1 (220-1001) and Core 2 (220-1002)
eBook (Watermarked)  $31.99

Machine Learning with Python for Everyone