With today's "connected life" running 24/7, we recognize it's hard to keep up with all your favorite websites and tech resources. The IT List is here to help you cut through the noise. Check back each Friday for a quick digest of articles, resources, promotions, and other goodies worth a first or second look on InformIT.
The IT List: What You Missed This Week on InformIT [6/6/14]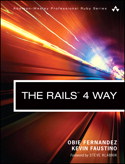 1. New for your bookshelf: Ruby on Rails 4 is leaner, tighter, and even more valuable to professional web developers. More than ever, it helps you focus on what matters most: delivering business value via clean and maintainable code.
The Rails 4 Way is the only comprehensive, authoritative guide to delivering production-quality code with Rails 4. Kevin Faustino joins pioneering Rails developer Obie Fernandez to illuminate the entire Rails 4 API, including its most powerful and modern idioms, design approaches, and libraries. They present extensive new and updated content on security, performance, caching, Haml, RSpec, Ajax, the Asset Pipeline, and more. Read a free sample chapter.
2. Ask an Expert: What is Digital Signal Processing? If you watch television, connect to the Internet, use a digital camera, make a cell phone call, drive a car, type on the keyboard of a home computer, or use a charge or debit card, you are taking advantage of Digital Signal Processing. Richard G. Lyons and D. Lee Fugal bring you up to speed by starting with an explanation of signals.
3. Blog Round-Up: New posts from the InformIT team on news, events, recommending reading, and more.
> Salaries (and Resources) for Tech Jobs: iOS Developers by Dustin Sullivan -- ComputerWorld recently published Salaries for the 20 hottest tech jobs. It's an interesting look at the what salary ranges might be expected for developers to DBAs to project managers. We have some resources that would be useful for anyone interested in pursuing iOS development as a career. Continue reading.
> Apple Invites Disruption with Swift by Brad Yale -- From June 2 – 6, thousands of Apple developers will meet in San Francisco for the Apple World Wide Developers Conference (WWDC). The conference aims to change the world. With the release of Swift, they might have done just that. Continue reading.
4. Load Your Library: Enter for the chance to win free eBooks for a year from our friends at Microsoft Press! Register on Facebook by June 30th.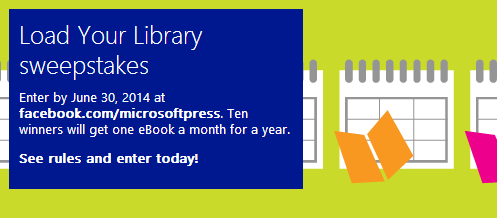 Have a great weekend. See you next Friday!