With today's "connected life" running 24/7, we recognize it's hard to keep up with all your favorite websites and tech resources. The IT List is here to help you cut through the noise. Check back each Friday for a quick digest of articles, resources, promotions, and other goodies worth a first or second look on InformIT.
The IT List: What You Missed This Week on InformIT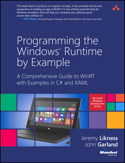 1. Reading List: Leading Windows development consultants Jeremy Likness and John Garland present easy-to-adapt C# and XAML example code for more than 80 projects in Programming the Windows Runtime by Example: A Comprehensive Guide to WinRT with Examples in C# and XAML. Their real-world application examples help you apply Windows 8.1's best improvements, including large tiles, the new search control, flyouts, command bars, native WinRT networking, and new deployment and sideloading options.
This is an indispensable resource for all intermediate-to-advanced Windows developers, and for any architect building desktop, tablet, or mobile solutions with Microsoft technologies.
Download a free PDF sample chapter and take a look inside.
2. Programming Sale: For a limited time, save up to 50% on classic and indispensable references from masters of programming like Robert "Uncle Bob" Martin, Donald Knuth, Kent Beck, Martin Fowler, and more. Apply discount code PROGRAMSALE during checkout now through July 2, 2014. Shop now.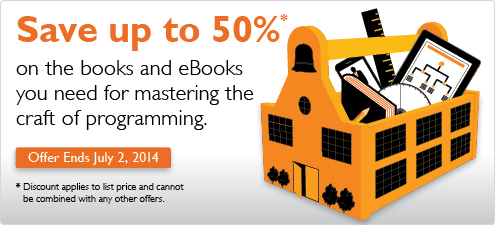 3. Ask an Expert: Aaron Hillegass, author and founder at Big Nerd Ranch, shares his thoughts on Apple's Swift programming language announcement at WWDC and why iOS developers still need to know Objective-C.
4. Dig into Big Data: What does it really take to derive value from Big Data and Analytics? Co-authors of Analytics Across the Enterprise: How IBM Realizes Business Value from Big Data and Analytics, Brenda Dietrich, Emily Plachy and Maureen Norton, identify 10 top tips based on their years of experience at IBM "eating their own cooking."
Have a great weekend! See you next Friday.