With today's "connected life" running 24/7, we recognize it's hard to keep up with all your favorite websites and tech resources. The IT List is here to help you cut through the noise. Check back each Friday for a quick digest of articles, resources, promotions, and other goodies worth a first or second look on InformIT.
The IT List: What You Missed This Week on InformIT [5/9/14]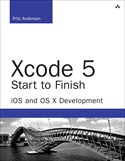 1. Hot off the Press: Xcode 5 Start to Finish will help you use the tools in Xcode 5 to improve productivity, write great code, and leverage the newest iOS 7 and OS X Mavericks features. Drawing on thirty years of experience developing for Apple platforms and helping others do so, Fritz Anderson shows you a complete best-practice Xcode workflow. Through three full sample projects, you'll learn to integrate testing, source control, and other key skills into a high-efficiency process that works. Want more? Download a free sample chapter (PDF) and check out the best value book+eBook bundle.
2. First Look: Mark your calendar! We've got some great eBook Deals scheduled next week to celebrate Microsoft TechEd. Here's your sneak peek. Have a favorite on the list?
Follow @InformIT and our friends @microsoftpress for #msTechEd pictures, news, and announcements next week in Houston. Even better? Enter on Facebook for the chance to win free eBook for a year from Microsoft Press.
3. Coming Soon: Bjarne Stroustrup introduces the second edition of his book, Programming: Principles and Practice Using C++, which will give reads a solid foundation for writing useful, correct, maintainable, and efficient code.
4. Round-Up: Following Oracle's recent launch announcement, we collected some great Java 8 insight from Jeff Freisen and Steven Haines. Dig in:
Also, visit the Java Programming Resource Center to access a free lesson from Marty Hall's Java 8: Lambda Expressions and Streams LiveLessons (Video Training).
Have a great weekend! See you next Friday.