With today's "connected life" running 24/7, we recognize it's hard to keep up with all your favorite websites and tech resources. The IT List is here to help you cut through the noise. Check back each Friday for a quick digest of articles, resources, promotions, and other goodies worth a first or second look on InformIT.
The IT List: What You Missed This Week on InformIT [5/30/14]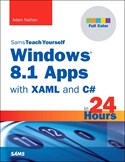 1. Hot off the Press: In just 24 sessions of one hour or less, Sams Teach Yourself Windows 8.1 Apps with XAML and C# in 24 Hours helps readers build compelling apps for Windows 8.1 devices of all kinds. Using a straightforward approach, author Adam Nathan shares expert advice on designing and building apps, creating flexible user interfaces, handling inputs, integrating controls, and more. Step by step, you'll discover how to leverage XAML's visual richness and the immense power of Windows 8.1.
Want more? Download a free PDF sample chapter to take a peek at our full-color layout. All figures and code appear as they do in Visual Studio.
2. Put on your Sorting Hat: Are you in a hurry? Brian Overland explains how to speed up your program's sorting capabilities by specifying the right type of sort for each occasion. Is your sort type fast to program but pokey to run? Zippy but a space hog? Learn why one algorithm is speedier than another—potentially hundreds of times faster!
3. Ask an Expert: Erica Sadun explains how iOS 7 introduced built-in damped harmonic oscillations through its spring-based animator. Learn about this new API and how it adds timing curves that emulate the motion of a physical spring. Dig into "Adding Bounce to Your UIViews: The Joy of Damped Harmonics in iOS 7 Development." Want more? Find her at @ericasadun on Twitter.
4. Special Offer: We're celebrating the eBook release of Donald Knuth's "The Art of Computer Programming, Volume 2, 3rd Edition" with a very special, but limited time deal. Act fast and save 53% off list price and add this classic to your digital library! Includes EPUB, PDF, and MOBI with purchase. Hurry, grab your copy at informit.com/deals. This offer expires at midnight PST on May 31, 2014.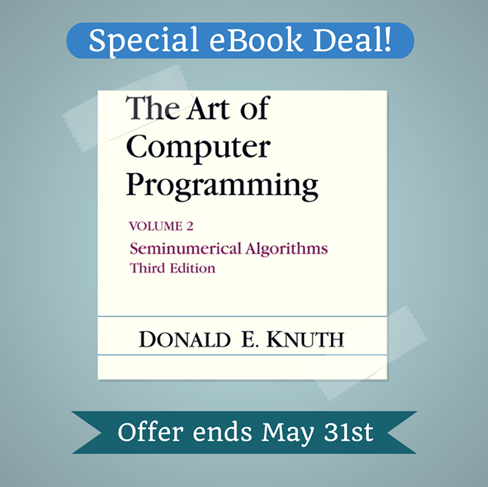 Have a great weekend! See you next Friday.