With today's "connected life" running 24/7, we recognize it's hard to keep up with all your favorite websites and tech resources. The IT List is here to help you cut through the noise. Check back each Friday for a quick digest of articles, resources, promotions, and other goodies worth a first or second look on InformIT.
The IT List: What You Missed This Week on InformIT [3/7/14]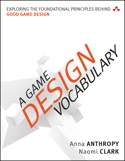 1. Hot off the Press: Why does it feel like we're playing the same video games over and over again? Why aren't games helping us transform our lives, like great music, books, and movies do? The problem is language. It's difficult to talk about game design, learn from history, and share creative vision.
A Game Design Vocabulary: Exploring the Foundational Principles Behind Good Game Design gives readers the complete game design framework —whether you create, study, review, or build businesses on them. Anna Anthropy and Naomi Clark share foundational principles, examples, and exercises that help create great player experiences, complement intuition with design discipline, and craft games that succeed brilliantly on every level.
What's the buzz?

Some of the greatest challenges to the intelligent advancement of game-making can be found in the ways we conceptualize and discuss them. This simple yet profound new vocabulary is long-overdue and accessible enough to help new creators work within a meaningful framework for games. —Leigh Alexander, Game Journalist and Critic
Why is this book important? Videogames are the defining mass medium of our time, yet even those who make games lack a clear language for understanding their fundamental mechanics. A Game Design Vocabulary is essential reading for game creators, students, critics, scholars, and fans who crave insight into how game play becomes meaningful. —Eric Zimmerman, Independent Game Designer and Arts Professor, NYU Game Center
2. Barnes & Noble Offer: Remember, save 30% off featured Sams Teach Yourself titles in-store at Barnes & Noble through March 13th (while supplies last). Includes resources on programming (C/C++, VB, beginning programming), mobile app development, HTML5/CSS, SQL, and more! Find a location near you.
3. Ask an Expert: Jennifer Bray explains why developing a support network can be critical for women in STEM fields, and shows you how to go about developing a network, even if networking and socializing aren't your strong suit.
4. Heard on Twitter: Sound bites in 140 characters or less.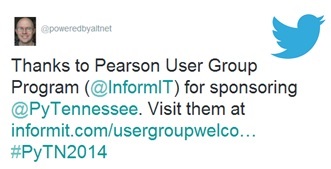 >>Is your User Group, Meetup or tech community registered with the Pearson User Group Program? Learn more exclusive member offers at informit.com/usergroups.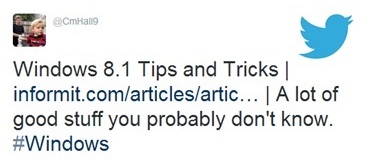 >>Bookmark Windows 8.1 Tips and Tricks and Five Ways to Streamline Your Music in Windows 8.1.

>>Follow @InformIT on Twitter for eBook Deal of the Day announcements or grab our RSS feed to make sure you don't miss special offers on informit.com/deals.
Have a great weekend. See you next Friday!