With today's "connected life" running 24/7, we recognize it's hard to keep up with all your favorite websites and tech resources. The IT List is here to help you cut through the noise. Check back each Friday for a quick digest of articles, resources, promotions, and other goodies worth a first or second look on InformIT.
The IT List: What You Missed This Week on InformIT [1/24/14]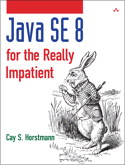 1. Hot off the Press: Eagerly anticipated by millions of programmers, Java SE 8 is the most important Java update in many years. The addition of lambda expressions (closures) and streams represents the biggest change to Java programming since the introduction of generics and annotations.
Now, with Java SE 8 for the Really Impatient, internationally renowned Java author Cay S. Horstmann concisely introduces Java 8's most valuable new features (plus a few Java 7 innovations that haven't gotten the attention they deserve). If you're an experienced Java programmer, Horstmann's practical insights and sample code will help you quickly take advantage of these and other Java language and platform improvements.
Download free sample chapter (PDF).
2. Author Interview: Software tester and coach Lisa Crispin interviews Stephen Vance, author of Quality Code: Software Testing Principles, Practices, and Patterns, about his book, why TDD is a skill independent of your ability to code, why pairing is so effective, and what he thinks about Code Retreats. Read the Q&A.
3. Best of the Best: Only a few days left to shop the Best of 2013! Make room on your digital shelf for the best-selling and best reviewed products on InformIT. What do you want to learn this year?
*Offer ends January 31, 2014.
Have a great weekend. See you next Friday!