With today's "connected life" running 24/7, we recognize it's hard to keep up with all your favorite websites and tech resources. The IT List is here to help you cut through the noise. Check back each Friday for a quick digest of articles, resources, events, promotions, and other goodies worth a first or second look on InformIT.
The IT List: What You Missed This Week on InformIT [11/22/13]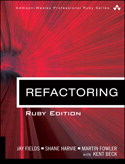 1. Hot off the Press: The definitive refactoring guide, fully revamped for Ruby, is ready for your bookshelf and digital library! With refactoring, programmers can transform even the most chaotic software into well-designed systems that are far easier to evolve and maintain. What's more, they can do it one step at a time, through a series of simple, proven steps.
Now, there's an authoritative and extensively updated version of Martin Fowler's classic refactoring book that utilizes Ruby examples and idioms throughout–not code adapted from Java or any other environment. Whatever your role in writing or maintaining Ruby code, this book will be an indispensable resource.
2. Ten Core Data Mistakes: Tim Roadley highlights common mistakes developers make with Core Data and why you should avoid them. He also touches on Core Data benefits, terminology, versioning, migration, performance, and iCloud integration pitfalls.
3. Advanced Debugging in the Linux Environment: Stephen Rago describes some of the free tools available for the Linux operating system to help you debug your programs. You will learn about some very effective tools (systemtap, strace, valgrind, gdb) and how to effectively employ them in real-world scenarios.
4. New Video Training: Professional C Programming LiveLessons, Part I: Writing Robust, Secure, and Reliable Code provides an in depth explanation of how to use common C language features to produce robust, secure, and reliable code. Author, instructor and programmer, Robert C. Seacord created this video for developers who have previous experience in C language programming. In six lessons, Professional C Programming, Part I, shows developers how to perform common C language programming tasks correctly while avoiding programming errors that are not always detected or reported by the compiler. Watch sample content in player below.
Have a great weekend. See you next Friday!