Home > Blogs > Thank You from InformIT #17DaysofGiveaways
Thank You from InformIT #17DaysofGiveaways
The 17 Days of Giveaways ran each weekday July 9-31. We gave our fans eBooks, Amazon gift cards, and more. Thank you to our fans, old and new, for participating. We hope that you had fun. Thanks for all the retweets, blog posts, and Facebook likes. We're so sad we couldn't give everyone a prize! Please sign up for our newsletter to stay updated on our latest news and product offerings, and maybe some upcoming contests with more opportunities to win!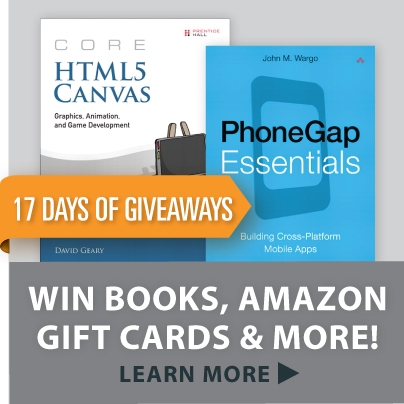 Become an InformIT Member
Take advantage of special member promotions, everyday discounts, quick access to saved content, and more! Join Today.
Other Things You Might Like
Large-Scale C++ Volume I: Process and Architecture