Home > Blogs > PowerPoint 2007: Multiple Masters and Layouts
PowerPoint 2007: Multiple Masters and Layouts
Besides multiple masters, PowerPoint 2007 also has a set of layouts attached to each master.
While PowerPoint has had multiple masters for several versions, now there is more versatility with a set of layouts connected to each Slide Master. You can see the full range of layouts with each master in the left panel of the Slide Master ribbon. This gives you the opportunity to use different formats within the various layouts, and (re)apply them to slides for fast formatting, but only effect changes in specific layouts. PowerPoint 2007 also has a new set of layouts in the Home tab to apply to slides.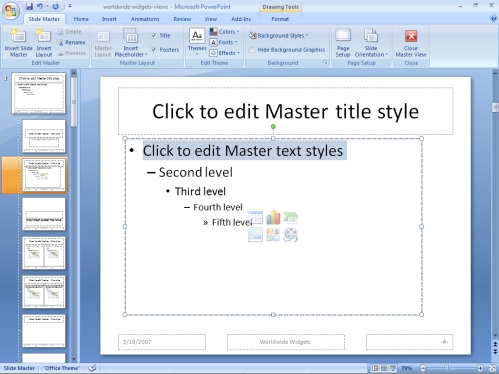 Become an InformIT Member
Take advantage of special member promotions, everyday discounts, quick access to saved content, and more! Join Today.
Other Things You Might Like
Adobe Photoshop CC Classroom in a Book
The Photoshop Elements 2020 Book for Digital Photographers