Home > Blogs > Outlook Search Folders
Outlook Search Folders
You can either use the pre-set Outlook Search Folders or create your own to organize you items and email
By setting criteria for Search Folders, you can have email directed to your own Search Folders, or use the pre-sets already in Outlook. You can use the Search folders to filter spam and junk mail, or to maintain separate folders that accummulate items for specific projects (from set email addresses). For more about creating search folders see the Search Folder update.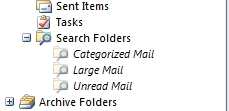 Become an InformIT Member
Take advantage of special member promotions, everyday discounts, quick access to saved content, and more! Join Today.
Other Things You Might Like
The Photoshop Elements 2020 Book for Digital Photographers
My iPhone for Seniors, 6th Edition