Home > Blogs > Outlook 2007: The To-Do Bar
Outlook 2007: The To-Do Bar
You can review your most important calendar appointments and tasks instantly in the To-Do Bar.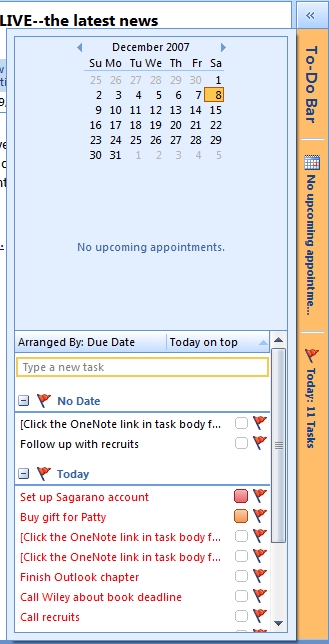 A great way to instantly review your most important appointments and tasks is by maximizing the To-Do Bar. Click the double arrow to close it and return to Outlook full screen. You can customize the To-Do bar in the Other tab in Outlook Options.
Become an InformIT Member
Take advantage of special member promotions, everyday discounts, quick access to saved content, and more! Join Today.
Other Things You Might Like
Adobe Photoshop Lightroom Classic CC Classroom in a Book (2019 Release)
Microsoft Project 2019 Step by Step