Home > Blogs > OneNote: Send Web Pages from IE
OneNote: Send Web Pages from IE
With OneNote installed you can use the Tools menu in Internet Explorer to send any web page to OneNote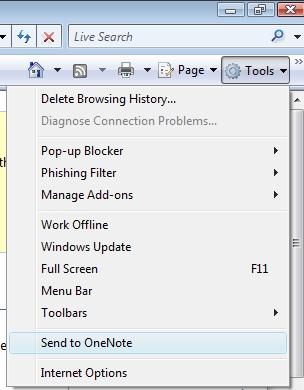 While you can copy and paste material and its link from IE into a OneNote page, you can also use the Tools drop down arrow in IE to instantly open a new OneNote page with the content from the open web page, just use Send to OneNote.
Then with the page open in OneNote, drag it into the relevant section.
Become an InformIT Member
Take advantage of special member promotions, everyday discounts, quick access to saved content, and more! Join Today.
Other Things You Might Like
The Photoshop Elements 2020 Book for Digital Photographers