Home > Blogs > Office 2007/Excel: Use Themes to Reformat Your Document
Office 2007/Excel: Use Themes to Reformat Your Document
Themes are a quick way to make your worksheet or document look different quickly, and particularly to apply a different set of colors and effects to a graphic element, like a chart.
Themes are in the Page Layout tab of the Ribbon and are broken down into colors, fonts and effects. You can quickly apply an entirely different set of coordinated colors, fonts and effects as a complete theme from the Theme gallery.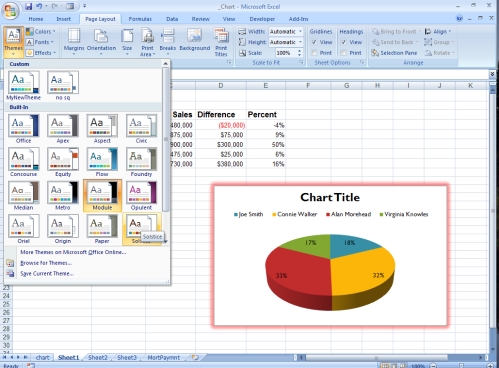 Become an InformIT Member
Take advantage of special member promotions, everyday discounts, quick access to saved content, and more! Join Today.
Other Things You Might Like
The Photoshop Elements 2020 Book for Digital Photographers
My iPhone for Seniors, 6th Edition