We were especially excited to be a part of SIGGRAPH 2013 this year because, after at least 5 years of promising "it will be here next year," we finally had a NEW edition of Computer Graphics: Principles and Practice!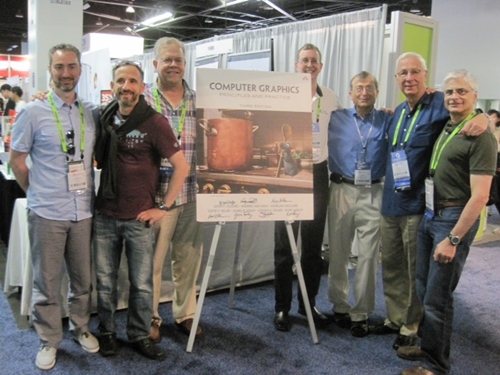 The authors of Computer Graphics. From left to right: Morgan McGuire, Dave Sklar, John "Spike" Hughes, Kurt Akeley, Andy Van Dam, Jim Foley, and Steve Feiner.
It's been more than twenty years since the last edition, and educators and professionals alike were very happy to see that this new edition was not only finally available but also completely rewritten and fully up to date with contemporary developments in the field of computer graphics. To celebrate we had an hour long signing session with ALL seven of the authors. (This week was the first time they were all together.)
In addition to Computer Graphics, other titles in the OpenGL series that were very popular were new editions of OpenGL Programming Guide and OpenGL Super Bible, as well as the new book WebGL Programming Guide. Folks seemed glad to see that the new edition of the "Red Book" has removed all the deprecated material from older versions of the standard, and that it now incorporates all the information on GLSL formerly found in the "Orange Book", which has now been retired. It seems as though lots of folks are checking out WebGL – or have just started to use it.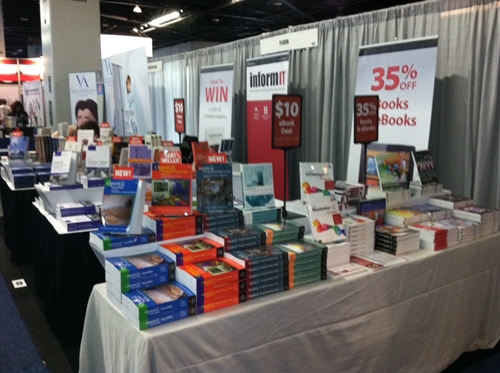 Our booth at SIGGRAPH.
Another technology lots of programmers were interested in is CUDA. A couple years back we debuted CUDA By Example with our friends at NVIDIA, and this year we were happy to add the follow-up The CUDA Handbook by Nicolas Wilt. It was good to be able to offer guides both for those brand new to CUDA (By Example) as well as those who already have the basics down and are ready to take the next steps (the Handbook).
This year was our first year offering eBook versions of our titles from the booth. While we've been offering eBooks and print/eBook bundles from InformIT for several years now, this was a welcome innovation on the show floor. We also offered the same show discount online, which was a welcome relief to many who now face extra luggage charges. But heavy books didn't stop many folks from overseas from picking up hard-to-find (for them) titles; nor did it slow folks down from getting the 10-pound (at least it feels like 10 pounds!) Computer Graphics. Heck, someone even took home a complete Knuth The Art of Computer Programming box set!
Earlier this year we launched a Women in Technology program and shared this program with many of the women who stopped by our booth. The reaction was universally positive. One professor was encouraged to share the program with his students after a long discussion regarding the lack of women in CS and the poor respect many get that are in the industry, especially academia. He thought the program was a marvelous idea.
All-in-all, it was nice to see our friends at SIGGRAPH for another year.