We are excited to announce Microsoft Press products are now available in the InformIT store, growing the number of valuable and trusted resources for Microsoft users and IT professionals.
Search for new and best-selling titles, including: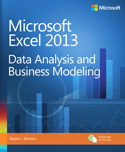 Microsoft Excel 2013: Data Analysis and Business Modeling
Master business modeling and analysis techniques with Microsoft Excel 2013, and transform data into bottom-line results. Written by award-winning educator Wayne Winston, this hands-on, scenario-focused guide shows you how to use the latest Excel tools to integrate data from multiple tables—and how to effectively build a relational data source inside an Excel workbook.
Windows Server 2012 R2 Inside Out: Configuration, Storage, & Essentials
This supremely organized reference packs hundreds of timesaving solutions, troubleshooting tips, and workarounds for Windows Server 2012 R2 - with a focus on configuration, storage, and essential administrative tasks.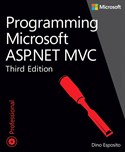 Programming Microsoft ASP.NET MVC, 3rd Edition
Go deep into the architecture and features of ASP.NET MVC 5, and learn how to build web applications that work well on both the desktop and mobile devices. Web development expert Dino Esposito takes you through the web framework's Model-View-Controller (MVC) design model, and covers the tools you need to cleanly separate business logic from the user interface. If you're an experienced web developer new to ASP.NET MVC, this practical guide will get you going.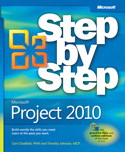 Microsoft Project 2010 Step by Step
Experience learning made easy-and quickly teach yourself how to manage your projects with Project 2010. With Step By Step, you set the pace-building and practicing the skills you need, just when you need them! Topics include building a project plan and fine-tuning the details; scheduling tasks, assigning resources, and managing dependencies; monitoring progress and costs; keeping projects on track; communicating project data through Gantt charts and other views.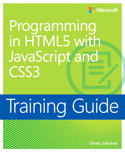 Training Guide: Programming in HTML5 with JavaScript and CSS3
Designed to help experienced programmers develop real-world, job-role-specific skills—this Training Guide focuses on creating applications with HTML5, JavaScript, and CSS3. Build hands-on expertise through a series of lessons, exercises, and suggested practices—and help maximize your performance on the job.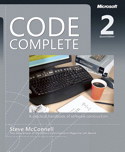 Widely considered one of the best practical guides to programming, Steve McConnell's original Code Complete has been helping developers write better software for more than a decade. Now this classic book has been fully updated and revised with leading-edge practices—and hundreds of new code samples—illustrating the art and science of software construction.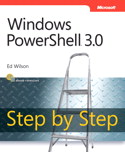 Windows PowerShell 3.0 Step by Step
Teach yourself the fundamentals of Windows PowerShell 3.0 command line interface and scripting language—one step at a time. Written by a leading scripting expert, this practical tutorial delivers learn-by-doing exercises, timesaving tips, and hands-on sample scripts for performing administrative tasks on both local and remote Windows systems.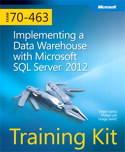 Training Kit (Exam 70-463): Implementing a Data Warehouse with Microsoft SQL Server 2012
Ace your preparation for Microsoft Certification Exam 70-463 with this 2-in-1 Training Kit from Microsoft Press. Work at your own pace through a series of lessons and practical exercises, and then assess your skills with online practice tests—featuring multiple, customizable testing options.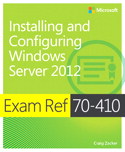 Exam Ref 70-410: Installing and Configuring Windows Server 2012
Prepare for Exam 70-410 and help demonstrate your real-world mastery of Windows Server 2012 core infrastructure services. Exam 70-410 is one of three required exams for the new MCSA: Windows Server 2008 certification from Microsoft. Organized by exam objectives, and featuring challenging, what-if scenarios, this Exam Ref focuses on the critical skills and knowledge needed to implement and configure Windows Server 2012 core services in an enterprise environment.

MCITP Windows Server 2008 Server Administrator: Training Kit 3-Pack
Prep in-depth for the MCITP: Windows Server 2008 Server Administrator certification exams 70-640, 70-642, and 70-646 -- and build real-world skills. Get three study guides, 900+ practice questions, review, and case scenarios- all in one box.
Connect with us for more information on Microsoft Press products, announcements and promotions: InformIT: Twitter // Facebook Microsoft Press: Twitter // Facebook