With today's "connected life" running 24/7, we recognize it's hard to keep up with all your favorite websites and tech resources. The
IT List
is here to help you cut through the noise. Check back each Friday for a quick digest of articles, resources, promotions, and other goodies worth a first
or
second look on InformIT.
The IT List: What You Missed This Week on InformIT [4/4/14]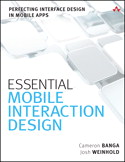 1. Hot of the Press: Mobile apps should feel natural and intuitive, and users should understand them quickly and easily. This means that effective interaction and interface design is crucial. However, few mobile app developers (or even designers) have had adequate training in these areas. Essential Mobile Interaction Design fills this gap, bringing together proven principles and techniques you can use in your next app–for any platform, target device, or user.
Download free PDF sample chapter "First Sketches of an App."
2. Ask an Expert: Some technologies are so important that it pays every web developer to have a basic knowledge of them. Phil Ballard lists five critical web technologies for 2014, the basics of which every web developer should grasp.
For a limited time, save up to 50% off the book, eBooks, and video training you need for tomorrow's web.

3. A Digital Classic: The Art of Computer Programming, Volume 1, by Donald Knuth is now available as a multi-format eBook (EPUB, PDF, and MOBI). This first volume in the series begins with basic programming concepts and techniques, then focuses more particularly on information structures–the representation of information inside a computer, the structural relationships between data elements and how to deal with them efficiently. This one deserves a spot on your digital bookshelf!
4. Say Hello: We are excited to announce that Microsoft Press products are now available in the InformIT store, growing the number of valuable and trusted resources for Microsoft users and IT professionals. Connect with us for more information on new products, announcements and promotions at @InformIT and @MicrosoftPress.

Have a great weekend! See you next Friday.