Want a simplified self-service tool to help you build business applications for the desktop and beyond? Microsoft programmers… meet Visual Studio LightSwitch.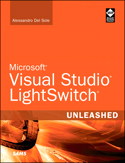 "Visual Studio LightSwitch is a Rapid Application Development (RAD) environment focused on making it easier to build line-of-business applications (that is, data-centric software)," says Alessandro De Sole, author of
Visual Studio LightSwitch Unleashed
from Sams Publishing. It represents a breakthrough in business application development for Windows clients, the Web, and the cloud.
That leads us to today's trivia question…
Within Visual Studio LightSwitch, business logic can be written in what two languages?
Answer correctly in the comments section below and three randomly selected winners will receive:
• (1) eBook copy of Microsoft Visual Studio LightSwitch Unleashed
Rules: Answer question by leaving a comment below (one per person, all duplicates will be discarded) by 12:01 am EST on March 17, 2012. Three winners will be randomly selected from all correct answers and notified by a comment from the InformIT team on their post.
Want to learn more?
> DOWNLOAD: Building Data-Centric Applications (PDF Sample Chapter)
> READ: LightSwitch: Implementing Custom Paging with Search Screens That Use Custom Controls (Article)
>READ: Tips and Tricks for Getting the Most Out of Screens in Visual Studio LightSwitch (Article)
Tell your friends! We'll be announcing #TuesdayTrivia twice a month via @informit on Twitter. Stay tuned for more great prizes.