Having just posted my first iPhone to the App store, I wanted to briefly describe the experience and at the same time to debunk some myths I've heard about since I started.
Overall, I really can't speak too highly of the whole iPhone development program. It's definitely not an easy process but it is truly open to anybody willing to put the effort into learning it. So, the first myth I'd like to debunk is that the developer program isn't open to all. It is – but you must have a Mac and at least access to an iPhone!
The detailed guidelines describe pretty much all the steps required to get your concept from your head into an app on iTunes. There's quite a lot of blogs and forums where developers post questions related to the development process. In my experience, a lot of the questions are simply caused by not fully reading/understanding the documentation.
Why is it a big deal that we can all now do iPhone development? Well, it means that there is now a commercial outlet or channel for one-person startups as well as development teams from the largest software organizations. Admittedly, I imagine it would help to have a dedicated marketing capability but the attributes of a successful iPhone application are simplicity, utility, and immersiveness. Examples of code are plentiful in the developer section of the Apple site.
Design guidelines are also available in pretty much bite-sized chunks – not so many endless 200+ page documents to trawl through. There is also much material on good programming practices in general. Even if your app isn't published, you will still learn a lot from writing it.
So, what sort of stuff gets accepted for sale? Well, you give yourself the best chance if you follow the excellent guidelines and develop an app that addresses the needs of mobile users. Apple provides a plethora of guidelines and example code ranging from snippets all the way up to full apps. A good approach might be to start with one of the examples and build on that, though it's probably a better bet to just start from scratch. This way, you get to see the entire tool chain.
The mobile platform really is the next big thing in computing. Just look at the numbers: Apple has sold 30 million iPhones and 220 million iPods. What is perhaps less well known is that you can develop apps for both the iPhone and the iPod touch. That's a big market.
Did I mention my own app? Well, it's really simple. It allows you to enter a date and the app then tells you what day of the week that was. Hence the name: "The day was". The app works all the way back to the year 0001 and it works into the future as well. You can use it to find out what weekday it was on the day you were born! Here's what it looks like!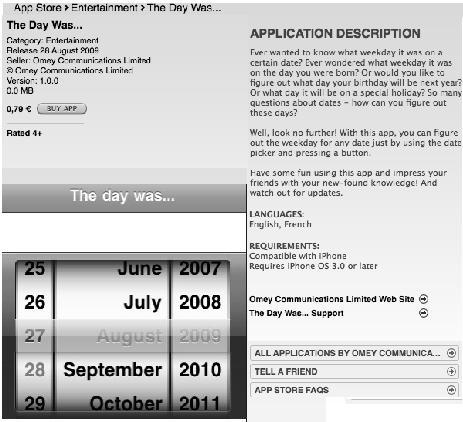 Now I need to figure out how to market the app. Given that the App Store currently contains in excess of 75,000 apps, it's not enough to just get it posted. I'll let you know how I get on.